Bush vs. Clinton – whose economy is stronger? Each claims his own. Economist Larry Kudlow: "Every expansion has a little different coloration. The Clinton years were colored by the technology boom and the dot-com boom, which ultimately produced a bubble that burst. The Bush years were colored by the tremendous housing boom from the Greenspan interest rates, and we're undergoing some kind of a bubble bursting right now."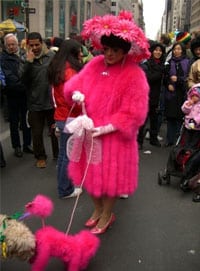 Is Easter the new Gay Pride?
True: 80's power ballad group Spandau Ballet set to reform.
Pop singer Mika seems intent on attempting to control his image. The singer, whose album Life in Cartoon Motion entered the Billboard 200 chart at #29, continues to be annoyed by those wondering about his sexuality. Says Mika: "Sexuality in pop is genderless. If you look at icons such as Bowie or Prince, has it got to do with actual sexual orientation? No. Has it got to do with style, beauty and class, irrelevant to whether you want to f**k them? Yes."
Queer Eye's Thom Filicia getting his own show on the Style Network. [Dress my Nest…lets him riff on an individual client's favorite outfit as the basis for making over an important room. If you like khakis and topsiders, that will be reflected in Filicia's design. If you're more into pearls and cashmere, the makeover will reflect that elegance. Primary vendors are Crate & Barrel, Pottery Barn and West Elm."
Justin Timberlake mocks Britney with GQ clip?
Gays at black colleges struggling to find community: "It's a tug-of-war that's emerging at other black schools, where students say outdated rules and homophobia block them from forming the gay campus voice common at majority white institutions. At Hampton [University], where rules govern everything from overnight guests to student dress, officials insist they don't discriminate against gays. They say they're simply enforcing the regulations on student groups, and there just isn't space for another one."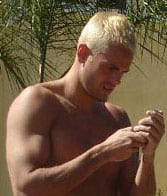 <---Paging Lance Bass?
Anti-gay Catholic leader William Donohue thought a South Park parody targeting him was hilarious: "Maybe I do come across too tough on TV. I thought it was hilarious and our staff thought it was hilarious. I said, listen, I said I have no defense except I'm gonna go with it."
Scientists unveil "spray-on" computer.
John McCain on lying about conditions in Iraq: "Of course I'm gonna misspeak. I've done it on numerous occasions. And I probably will in the future. I regret that when I divert attention to something that I've said from my message. But that's just life. And I'm happy, frankly, with the way I operate. Otherwise it'd be a lot less fun."
First gay health clinic in Ohio opens in Cleveland.