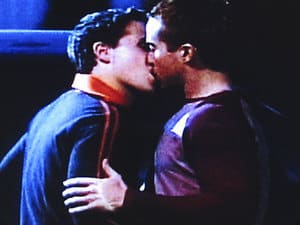 Ryan Carnes, who played Andrew van de Kamp's love interest in Desperate Housewives, recently talked to British tabloid The Sun about portraying a sexually-active gay teen on the show.
Said Carnes: "It was challenging, especially because Shawn (Pyfrom) and I were so young. Especially Shawn, he was only 18 when he started on the show. It's a tough age to take on that role and it was testing, but it was fun and it's from that show and that specific role that I've had the opportunity to move on. I didn't worry people would suddenly think I was gay and I wasn't embarrassed during the kissing scenes, but there is definitely a hurdle you have to conquer to really get into character."
Carnes was in the UK to shoot a couple of episodes for the science fiction series Doctor Who, a series which created the spin-off vehicle Torchwood for openly gay actor John Barrowman.
Said Carnes of the Doctor Who role: "I play a young guy who's met the love of his life. The couple are at that stage of the relationship where they can't get enough of each other – but then suddenly something strange happens. I sort of become a pig. I get caught between the human realm and the swine realm. It kind of throws a wrench into the relationship."