Those of you who like sketch comedy of the MadTV and SNL variety should tune your dial to LOGO tonight for the debut of The Big Gay Sketch Show, a solid piece of original programming from the channel. The half-hour show, like most sketch comedies, has its winners and its duds, but it's a refreshing addition in a gay format.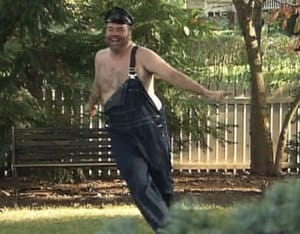 The screenshot here comes from a news segment spoof (think "Weekend Update") in which a "bear" is discovered in a local backyard and returned to its natural habitat. Various skits parody TV classics like The Facts of Life and The Honeymooners, as well as the newer Project Runway. Interspersed are shorter recurring segments like "Life Tips" hosted by duo Chad Michael and Michael Chad (Steven Guarino and Jonny McGovern, respectively) and "When I Knew" in which various cast members describe the moment they knew they were gay.
I attended a taping of the first episode a couple of months ago (directed by Married with Children's Amanda Bearse), and the segment that received the warmest welcome from the live audience was an episode in which Broadway legend Elaine Stritch gets a job at Wal-Mart. Of course the joke skews to an older audience who would naturally be more familiar with Stritch, but was well received by the mostly gay crowd which also included Parker Posey and giggly comedy vet Rachel Dratch.
The show uses gay stereotypes often for its comedic fodder (some more successfully than others) and the show is solidly cast with a diverse range of performers. It's interesting to see McGovern out of his "Soccer Practice" gay pimp element and on to a broader range of material. I'd love to see this show get a chance to develop. It debuts tonight at 10pm EST on LOGO.
In addition to LOGO's official site you can view the first episode online at AfterElton (another LOGO property).
Additionally
'Big Gay's' orientation is silly fun [ny daily news]