Stephen Andrew Moller, 18, has been arrested and charged with murder in the death of Sean Kennedy, whom I posted about earlier today.
Kennedy had left Brew's Bar when a man jumped out of a car and punched him, knocking him to the ground. Kennedy died nearly 17 hours later of injuries sustained during the assault.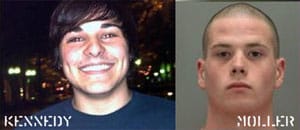 The arrest warrant for Moller said "investigators believe the assault was due to the victim's sexual orientation" according to GreenvilleOnline.
The paper reports: "Master Deputy Michael Hildebrand said the case has been turned over to the FBI who will determine whether or not to proceed with a hate crime investigation. South Carolina doesn't have a statute that covers hate crimes, so a federal agency would have to make the charges, according to the Sheriff's Office. Hildebrand said that witnesses and 'other investigative means' led investigators to Moller. Through the investigation, deputies believe that Moller made a comment about Kennedy's sexual orientation either before or during the assault, according to Hildebrand and the warrant."
Moller is being detained without bond at Greenville County Detention Center.
Arrest Made In Connection With Death Of Man At Bar [news channel 7 – greenville]
Taylors man arrested in bar death [greenville online]
Thanks to Towleroad readers for pointing me to the updates on this.