I know that more than a few people were unhappy to see the break-up of American Idol's dynamic duo Chris Richardson and Blake Lewis last night. Thanks to our wizards in the Towleroad labs, however, the two will never have to be apart again.
I now present to you – Cake!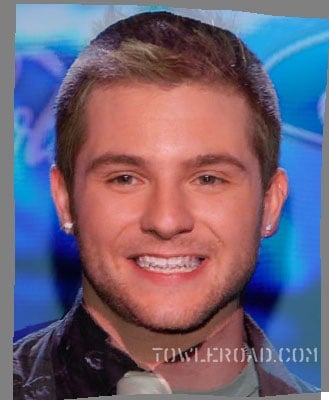 And lest we forget, the sad good-bye:
Chris to Entertainment Weekly on the BFF-moment:
EW: So let's talk about the Chris-Blake BFF moment last night: I didn't realize you two were such buds.
RICHARDSON: We developed a friendship back in Hollywood and clicked since then. We've been roommates forever now. He's become like a brother to me. It's just been one of those things. Me and him are both very big on loyalty and friendship, you know. We have a lot in common. We might not sing exactly alike, but our styles of music and our style in general is very similar. You can't be anything but excited when your boy makes it through to another round.
You may have missed…
Idol's Chris Richardson and Blake Lewis Get Cozy [tr]
American Idol's Blake Lewis Loses His Shirt [tr]