At least five men who claim they were raped at a Dutch gay sex party led authorities to arrest four others, two of whom have confessed to intentionally injecting men with HIV-infected blood. Police also arrested two others, one for his alleged involvement in the rapes, and another for selling a "considerable amount of drugs" including ecstasy and GHB.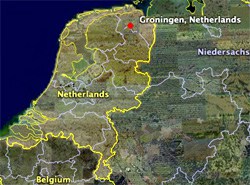 District police chief Ronald Zwarter talked to the Associated Press about the incidents, which took place in the northern city of Groningen. Said Zwarter: "The suspicion is that, at these parties, they had unsafe sex with people they had drugged, and also that these people were injected with infected blood. The motive to do this was the 'kick,' and the feeling that unsafe sex is 'pure'."
According to the AP, "Prosecution spokesman Paul Heidanus said Thursday that the two who confessed would face charges of rape and "premeditated severe assault, which carries a maximum sentence of 16 years in prison. He said they would not be charged with attempted murder 'because of a Supreme Court ruling that found AIDS should no longer be seen as an inevitably fatal disease, but rather a chronic illness,' Heidanus said."

Reuters reports: "Police began investigating the gay parties after receiving tips, some from AIDS groups. The police confiscated several liters of GHB, sometimes known as a 'rape drug' used to make people unconscious, as well as thousands of ecstasy pills, photographs and other evidence. A court in Groningen on Wednesday ordered the suspects to be held in prison for at least 90 days."
According to a police statement, all the victims said they thought they had been infected with HIV: "The victims said they had had been made helpless or unconscious and then abused. They had … involuntary and unsafe sex with one or more of the suspects."
Authorities said there may be both further arrests, and more victims out there.
Dutch police arrest 4 men in bizarre sex-crime investigation [ap via iht]