Anyone who has seen Trainspotting, Velvet Goldmine, or The Pillow Book knows Ewan McGregor is anything but bashful when it comes to flaunting his member, so maybe this report is no surprise: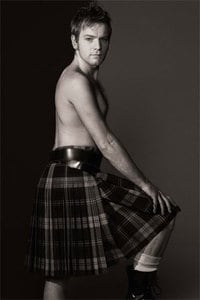 "The Star Wars actor has been spending a fortune on designer Aussie pants which help guys show off their lightsabers. The Wonderjocks are made by a firm called AussieBum, which boast that the undies 'help lift and promote' men's assets. Its adverts claim the posing pouches do for men what Wonderbras do for women's boobs."
Said AussieBum founder Sean Asby: "We found out that Ewan McGregor was buying them only because he made such a huge order and we had to do a credit check. The Wonderjocks were originally done as a bit of a joke after someone said to us: 'Could you do something that makes me look a bit larger?' And now it's just taken off."
I do want to note that AussieBum is a Towleroad advertiser. We thank them for their support, as apparently does Ewan McGregor.
You may have missed…
Gay for Pay: Ewan McGregor on Hampstead Heath [tr]