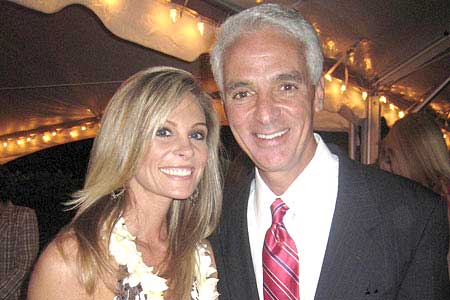 Florida Governor Charlie Crist's new girlfriend, Kelly Heyniger, went public with their relationship to the St. Petersburg Times today: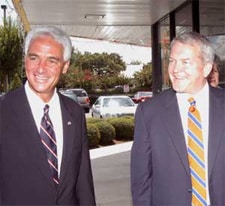 "She's blond. She's tan. She's a mother of two, a former beauty queen who auditioned for NBC's Fear Factor by eating a live earthworm and hiding four lizards in her mouth. And now, it's official: She's the governor's girl. Kelly Crosby Heyniger, 36, confirmed her relationship with Gov. Charlie Crist, 50, in an interview on WPBF-Ch. 25, the ABC affiliate in Palm Beach County where she lives. Heyniger and Crist met during a charity benefit on tony Jupiter Island early this year, after he traded life in St. Petersburg for the Governor's Mansion in Tallahassee. Heyniger told WPBF, during the interview in her home, that they've been dating since February and see each other about every two weeks. 'We're just hanging out, enjoying each others' company,' Heyniger smiles."
Why is this news? Last October, if you'll remember, independent gubernatorial candidate Max Linn attempted to out Crist during a radio interview on National Coming Out Day in the run-up to the November elections.
Said Linn: "Charlie come out, come out from wherever you are." Linn also reportedly said that "it is common knowledge in Tallahassee that Crist is gay" and it is time that his opponent acknowledged it.
Crist has repeatedly denied that he is gay. The then Attorney General called in to a radio show in 2005 to quell the rumors, and when the host asked him "Are you a homo?", Crist replied, "No, man. No. I love women. I mean, they're wonderful."
In October, 2006, New Times writer Bob Norman claimed that Crist had an affair with 21-year-old Jason Wetherington, the field director for Katherine Harris, based on two different anonymous sources who claim that Wetherington bragged to them at dinner parties that he and Crist had sex at a Tampa area hotel while he was working on the Harris campaign. One of Norman's sources also said that Wetherington named Bruce Jordan Carlton, a convicted felon who also worked for Katherine Harris, as Crist's long-term partner. Norman's claims remain just that, as no sources have publicly come forward.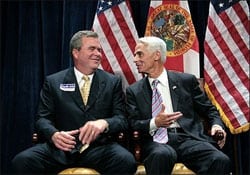 A question about Crist's sexuality from a reporter last November inspired a swift rebuke from Governor Jeb Bush, who told the reporter: "Put a smile on your face and don't be such a horse's ass."
Crist's campaign for governor was built on an anti-gay platform. "I support a constitutional amendment to protect traditional marriages, and I oppose adoption by gay couples," said one phone call put out by the Crist campaign. Crist also appeared to flip-flop on the eve of the elections, withdrawing his previously-stated support for civil unions.
There is one positive note in Crist's recent positions on gay issues. In February, Crist said that the Republican Party should not spend any more money funding groups pushing for a proposed constitutional ban on gay marriage in Florida.
A few more notes on Crist's new girlfriend:
"[She's] a former tomboy who says she always preferred fishing and motorcycles to dolls and makeup. She told the Palm Beach Post in 2004 that in Fear Factor's psychological evaluation, she tested '78 percent masculine.' She says she's still a blue jeans gal, but now she's more likely to don a dress for her dates with Charlie. She lets him wear the jeans instead. 'Charlie loves jeans, she told WPBF. He is a great guy, a lot of fun. He's real.'"
We wish her the best with his realness.