Without making any note of his background, or that in the 80's he said that "extermination of homosexuals" might be a necessary remedy for the AIDS crisis, the San Francisco Chronicle quoted Family Research Institute Director Paul Cameron in an article about gays being asked to adopt foster children.
San Francisco's Family and Children Services is set to begin a billboard/ad campaign (below, right) in an effort to recruit more same-sex couples to adopt and care for foster children, realizing what effective parents they can be: "In San Francisco, gay men and lesbians already adopt a large share of the foster children who are not adopted by relatives — 88 percent since last July, for example, according to Dan Kelly with the Human Services Department."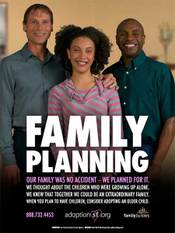 Apparently attempting to present an "alternative" perspective, reporter Ilene Lelchuk dredges up the Focus on the Family position, without any qualifiers:
Reports Lelchuk: "Focus on the Family's objection to same-sex parents is grounded in interpretation of biblical scripture and research by Paul Cameron, director of the Family Research Institute in Colorado. Cameron says gays and lesbians are unfit parents, are more likely to molest children of their same sex, switch partners frequently, have shorter life expectancies and cause their children embarrassment and social difficulties. 'Any child that can be adopted into a married-mother-and-father family, that's the gold standard,' Cameron said. 'An orphanage would be the second choice, and then a single woman.'"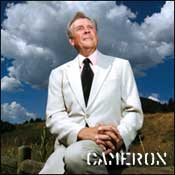 According to AmericaBlog, "[Cameron] was kicked out of the American Psychological Association, and was publicly rebuked by the Nebraska Psychological Association and the American Sociological Association. And he has been called the leader of a "hate group" by the Southern Poverty Law Center, America's number one civil rights organization for tracking the klan, neo-Nazis and white supremacists."
Lelchuk declined to note that Cameron's "research" has been debunked numerous times, but appears to present him as a legitimate expert on the issue. Read more here.
Presenting this without any qualifiers is an affront to same-sex couples, like the Stewart-Whites of San Francisco, who have committed themselves to adopting and raising foster children in need.
AmericaBlog notes: "a sloppy, offensive, and dangerous gaffe".
SF Chronicle quotes known hate group as legitimate expert claiming gays molest kids [americablog]
S.F.'s same-sex couples asked to adopt foster kids [sf chronicle]
And you may have missed…
The Stewart-Whites of SF: Real Family Values [tr]