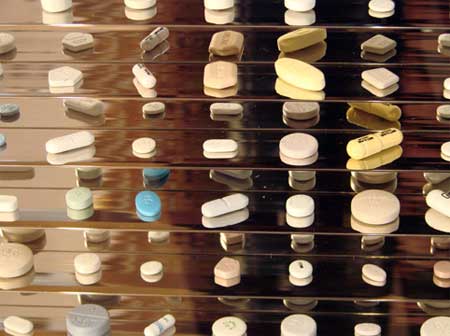 This morning Page Six reported that George Michael has been on an art-buying binge in the last month: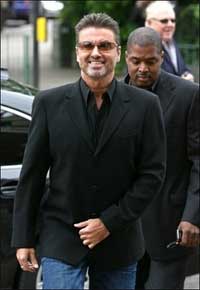 "In the past month, the superstar has spent $20 million on pieces by controversial shark-pickler Damien Hirst, among others, boosting the value of his personal collection up to a whopping $80 million. A source close to the 43-year-old star, who opens the new Wembley Stadium with two dates next month, tells us: 'George is hugely into his art. He made a lot of money from his 53-date tour last year and he thought this would be a good way to invest it. He's chosen pieces by Damien, photographer David LaChapelle and Tracey Emin. They wouldn't be to everyone's taste but they're hugely collectible and are certain to go up in value.' Michael will exhibit some of the works in partner Kenny Goss' gallery in Dallas. Meanwhile, Michael was outbid Thursday during a heated auction at Christie's for a Hirst piece. A source said Michael dropped out after the price hit $6 million. His rep declined to comment."
Michael also recently told British TV host Michael Parkinson that his incidents behind the wheel were due to a dependence on pills: "It involves prescribed drugs and it involves a dependency on them and the tendency to chase one drug with another because of side effects."
Out of curiosity, I checked the Christie's block to see what Damien Hirst had up for auction at the recent blockbusting Christie's auctions, and in addition to a gorgeous Malaysian butterfly piece called "Wonder of You", there was another piece that may have cried out for Michael.
Setting a world auction record for Hirst at Christie's (it sold for $7.4 million) was "Lullaby Winter", a sculpture consisting of glass, stainless steel, and rows and rows of painted cast pills. Hundreds of capsules and tablets line glistening shelves. It's a work that speaks to society's unhealthy reliance on medicine.
If Michael were to pop one of these painstakingly-recreated pills, however, it wouldn't do much. Probably not a great art piece for an admitted addict to have around though. And of course, George could have very well been after the butterflies.