Developing from south Florida…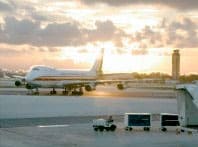 I just received word from Anthony Niedwiecki, who reported the incident at the Ft. Lauderdale Airport I posted about earlier this week, that officials in Ft. Lauderdale have located the individual who broadcast the anti-gay Biblical message over the airport's PA system last week.
According to Niedwiecki, he and his partner Waymon Hudson had just arrived from Chicago, were waiting at the baggage claim, an announcement a voice over the PA system: "A man who lies with another man as he would a woman is subject to death." Officials quickly began an investigation after being alerted by Niedwiecki.
The individual reportedly works for a contractor at the airport and admitted to law enforcement that he or she recorded the message on a cell phone and played it over the PA system twice, just as Niedwiecki reported he heard it. According to Niedwiecki, authorities told him the individual confessed when confronted by police at their home yesterday.
There are sure to be more developments. Stay tuned.
You may have missed…
Gay Couple Receives Biblical Threat at Florida Baggage Claim [tr]
Ft. Lauderdale Airport Biblical Broadcast Under Investigation [tr]