Jared Polis, a web entrepreneur and philanthropist from Boulder, Colorado, today launched a bid for the U.S. House that would make him the first openly gay representative from Colorado if elected.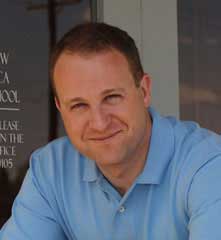 Polis, a Democrat, has built what the Boulder Daily Camera calls "extravagant wealth" by building and selling internet companies Bluemountainarts.com and Proflowers.com, and spent six years serving on the Colorado Board of Education. His work in education goes beyond that, however:
"Besides serving on the state board of education, Polis founded New America School, a system of public charter high schools that teach English to recent immigrants. He currently serves as the school's superintendent. He also started the Polis Foundation in 2000 to support teachers and students through mentoring, tutoring and technology. And he successfully led the effort in November to raise nearly $300 million in a Boulder Valley School District bond issue for school repairs and renovations."
The paper notes that Polis was recently criticized for backing "an ethics-in-government amendment…that limits the value of gifts Colorado elected officials, public employees and their immediate family members can accept."
Neither Polis, nor the paper, feel that his sexuality will be a major factor in "liberal-leaning" Boulder. Said Polis, who has been with his partner Marlon Reis for almost four years: "To have dealt with the closet and coming out in one's life is a character-builder."
Polis is vying with Senate President Joan Fitz-Gerald and environmentalist Will Shafroth, both Democrats, for the seat.
Boulder entrepreneur Polis makes U.S. House bid official [daily camera]
Jared Polis [official site]