The New York Public Library has acquired a set of important gay rights documents from the estate of the late Barbara Gittings and her partner Kay Lahusen: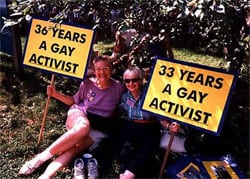 "Gittings's papers document her activities on behalf of gay and lesbian rights from 1958, when she founded the East Coast chapter of the Daughters of Bilitis, the first national lesbian organization. Her writings influenced the American Psychiatric Association's December 1973 removal of homosexuality from its list of mental disorders. As a longtime leader of the American Library Association's Gay Task Force (now the Gay, Lesbian, Bisexual, and Transgendered Round Table), Gittings was influential in developing programs to highlight the availability of gay materials for use in libraries. She was awarded an ALA honorary membership in 2003. Lahusen's extensive photographic collection includes images of early protesters, portraits of prominent lesbians, and photos chronicling gay activism through 2005. 'Barbara and I always wanted our papers and photographs to be cared for and made available in a secure, world-class repository,' Lahusen said. 'And we wanted our letters and photos to be surrounded by those of friends and colleagues in the cause. The New York Public Library's marvelous archive division was the obvious choice.'"
Gittings died in February after a battle with breast cancer.