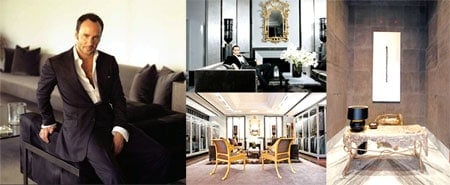 The New York Times' Horacio Silva drops in to Tom Ford's recently opened Madison Avenue flagship store and is virtually ignored. Silva: "If my walk-in is any indication, Mr. Ford has confused exclusionary with exclusive." Until the next day, when Silva made an appointment using his own name. Suddenly, "it was Champagne and smiles all around."
Ford has continually touted the emphasis on service and a set of highly-publicized maids and butlers that are supposed to lend the boutique that element, but Silva found a different story:
"When I heard that Mr. Ford had appointed an in-store maid, I assumed that it was a marketing ploy and that a modelesque stunner would walk around in high heels and a feather duster, playfully spanking the hedge-fund guys who were prepared to drop a pretty penny on, say, silk pajamas ($1,900, monogram not included). Not to my taste, by any means, but it would have been a cheeky gesture in keeping with the winking sexual provocation for which he was known at Gucci. The last thing I expected was a display of help-as-spectacle that reminded me of the Brazilian haute department store Daslu, which employs hundreds of maids for the benefit of traveling robber-baron princesses. The security guards and curtained windows brought to mind the closed-door policy of Bijan in the '80s, a shop that is now confined to the annals of retail history."
Shape up, Mr. Ford, is Silva's conclusion:
"An unintentionally hilarious parody of a pretentious Madison Avenue boutique, the store reeks of arriviste Anglophilic posturing dressed up as aristocratic gentlemanly refinement. For all the preopening ballyhoo about the it's-all-about-you customization and details like buttons on trouser cuffs so that your butler can brush away the remains of the day — at last! — the reality is more akin to a luxury store in a second-tier market during the mid-'90s."
Ouch.
No Store is a Hero to Its Valet [nyt]
You may have missed…
Tom Ford to Open Butler-Staffed NYC Men's Luxury Bachelor Pad [tr]