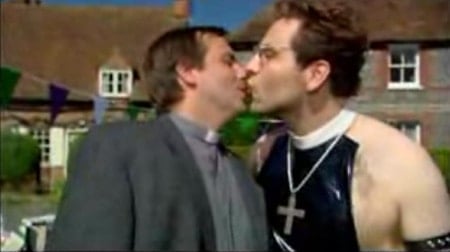 Poland's state broadcaster TVP cut about one minute out of a broadcast of the Matt Lucas comedy Little Britain because of a kiss between a vicar and a leather-clad David Walliams.
Said their spokeswoman, "British viewers are more open and indulgent than their Polish counterparts. It's a different sense of humour, and one which is sometimes incomprehensible for the Polish public. We decided to cut a scene which could cause controversy among Polish viewers and which isn't exactly in line with our mission as a public television channel."
Apparently Polish audiences have no problem with butt plugs or dildos.
No doubt Jaroslaw thoroughly enjoyed it.
I've added the clip below. Definitely NSFW.
You may have missed…
Tinky Winky Under Investigation by Polish Authorities [tr]
Poland's PM Says More Gays are Bad for Society [tr]
Little Britain's Matt Lucas Weds Partner in London [tr]