The Honda Civic belonging to Trevor Charles Brewster, whose body was discovered in a reputed gay cruising area near Halifax, Nova Scotia, is still missing and police hope it contains clues about who may have killed him: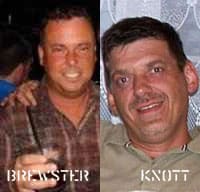 "Brewster's car was seen the night before he was reported missing by police in Cole Harbour who noticed the vehicle making a minor driving infraction. Brewster was reported missing May 8 when he failed to show up for work as a waiter at the Steak and Stein restaurant in Halifax. How Brewster died hasn't been revealed by investigators. Police consider the car to be a vital clue in finding Brewster's murderer. Police forces outside of Nova Scotia have been asked to be on the lookout for the Honda with a distinctive rainbow teddy bear decal on the trunk. Investigators say they're encouraged by several recent tips they've received."
Following Brewster's murder, and the recent similar murder of Michael Paul Knott, authorities have warned gay men to avoid public cruising areas.
Cross-country search for car in N.S. slaying [cbc]
You may have missed…
Gay Man Murdered in Nova Scotia Park Reputed as Cruising Area [tr]