In the upcoming issue of the Advocate, Matthew Link interviews Marcus Mabry, who has just published Twice as Good: Condoleezza Rice and Her Path to Power (the first biography on the Secretary of State on which she has cooperated). They discuss, in part, Condi's sexuality. Mabry says that despite all the rumors that she's a lesbian, in all his research he never found any proof: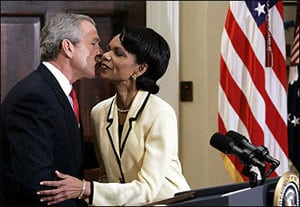 "The lesbian rumors have been out there for a long time. In my reporting of this book for two years, at evey turn I encountered someone telling me, 'you know she's a lesbian, right?'— colleagues at Stanford, Colleagues in Washington, fellow professors around the country. That she told so-and-so she was gay, or she went out with this woman or that woman. And I would trace each of the rumors back and report them out, and they would never go anywhere. I never even came close to finding a female lover. People had assumed that her best friend, who is a gay man, was her boyfriend. Again, I think it's the Southern imerative to keep the public and the private separate. People have no idea who the private Conoleezza is, so they fill that vacuum. In private she's incredibly warm and gracious—it's shocking. Oftentimes people think a single, strong, powerful woman must be a lesbian. There's a certain homophobia implicit in that assumption."
The issue goes on sale this week.