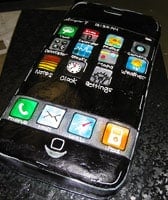 Oh my god the iPhone is finally released right now ahhhh [die]. What more can be said that hasn't been already? It turns out that people really are willing to line up — for days — for a $500 cell phone. But that's because it's not just a cell phone. Reviews this past week seemed to all agree: there are some shortfalls, but the iPhone deserves to be called revolutionary. After all, the multi-touch user interface, as we've seen over the past few months, is the future of computing, and this is really the first consumer device available that has it. It is also the long-rumored wide-screen touch iPod that fans have been anticipating for almost two years.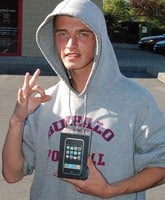 If you're not currently in line at an Apple store near you (hi, Andy!), then you a) are sick of hearing about the iPhone or b) want to read all you can since you can't afford to be a part of the actual experience of owning one. In that case, you're in luck: not only is there no lack of news coverage of the feeding frenzy, and not only are pictures of the iPhone unboxing beginning to surface, but Apple has once again updated its site in the past few days with over a dozen video clips that are the next best thing to playing with one in real life. Yep, it's iPhone porn.
Too bad you didn't get a retail job at an Apple store: every current Apple employee in the United States will receive an 8GB iPhone.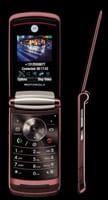 But not everyone wants an iPhone, in which case Motorola does a pretty good job of offering up sexy alternatives. New Moto phones coming down the line include the RAZR 2 — thinner and yummier than earlier RAZRs (which, if you ask me, are still one of the nicest looking/feeling phones out there) and the RIZR Z8, a "media monster" with a sweet curved slider design. The next version of Motorola's popular Moto Q smartphone is also on its way.
MySpace as officially launched MySpace TV, a video sharing site for its bajillions of users which will compete with Google's YouTube.
We've covered the effort on the part of internet broadcasters to challenge royalty fee hikes that would put many out of business. This week thousands of those sites participated in a "Day of Silence" in protest of the new fees that are supposed to begin July 15th if Congress does not intervene. SaveNetRadio.org says that the radio silence resulted in 14 million hits to its website and over 350,000 calls to Congress in support of the Internet Radio Equality Act. The site claims that the 15th will be "the day the music dies" if the act is not passed.
The United States Department of Energy is the first consumer of IBM's latest — and fastest — supercomputer. The room-sized computer operates at "petaflop" speeds thanks to its 294,912 processors, and can crunch 1,000 trillion calculations per second. That truly is super.
Tech Video of the Week There's no shortage of iPhone parodies, like this one from Comedy Central's The Soup. See, everyone can put an iPhone to good use!
TowleTech is written by TR correspondent Daniel Williford.