Enrique Iglesias, who last week made a gay fan's dream come true by bringing him up on stage and serenading him at London's G-A-Y nightclub, wants his fans (gay and straight) to know that he's not underendowed.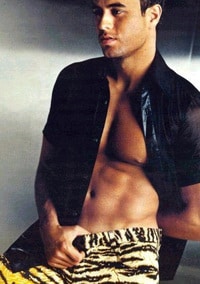 "The Latino hunk, 32, says he's 'huge' down below and that his jokes about needing his tackle sorting out had been misinterpreted. 'I meant I needed a penis reduction, not an enlargement!' he insists. 'The people who wrote I had a small willy misunderstood.' Enrique, who says he was nicknamed tripod at school because of his impressive manhood, will keep confusing the issue, though. 'I said perhaps I could do my own condom range – but the condoms have to be small,' he admits."
Recently Brit tabloid The Sun quoted Iglesias as saying "I'd change my penis if I could. It's way, way, way too small."
Whatever, the case, Iglesias' display of confidence in front of a gay audience shows he's man enough for pretty much any occasion.
Recently
Enrique Iglesias Serenades Male Fan at G-A-Y in London [tr]