Carrey will play Steven Russell, a real-life gay convict currently serving a 144 year prison sentence in Texas, in I Love you Phillip Morris, based on the Steve McVicker book of the same name
.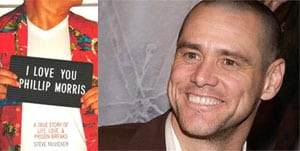 Variety reports: "Based on a book by Houston Chronicle crime reporter Steve McVicker, the fact-based film casts Carrey as Steven Russell, a married father whose exploits landed him in the Texas criminal justice system. He fell madly in love with his cellmate, who eventually was set free, which led Russell to escape from Texas prisons four times. Script has some of the dark edges of 'Bad Santa' but is grounded by the affable and lovesick character of Russell. Project was pitched to financiers as 'Catch Me if You Can' meets 'Brokeback Mountain.' It went to Besson, who recently declared an intention to take Europacorp public with an initial offering in Paris. Lazar bought the book while it was in galleys four years ago and enlisted Ficarra and Requa, who wrote 'Cats & Dogs' for the producer. Carrey was the first actor to whom he showed it. The timing of the film hasn't yet been resolved. Like many stars, Carrey is plotting back-to-back films that can be completed before the SAG contract expires next summer."
Glenn Ficarra and John Requa, who wrote Bad Santa, will be first time directors on the project.
Carrey lights up 'Phillip Morris' [variety]
I Love You Phillip Morris: A True Story of Life, Love, & Prison Breaks
[amazon]
Steven Jay Russell [wikipedia]