The upcoming Adam Sandler/Kevin James film I Now Pronounce You Chuck and Larry, about a pair of firefighters who pretend to be gay in order to collect domestic partner benefits, is perhaps the most high-profile gay-themed "mainstream" film of the summer. It's set to open on July 20th.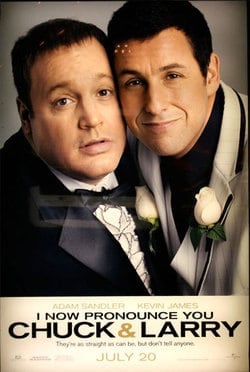 The film's premiere is scheduled for July 12th, which happens to be the opening night of the 25th anniversary of L.A.'s largest gay and lesbian film festival, Outfest.
Yet, according to The Advocate there have been no attempts by Universal to tie the film with the fest:
"Did Universal know about a potential rainbow-colored calendar collision when the premiere date was set? A Universal spokesperson had this response: 'The fact that our film premieres during Outfest is merely a coincidence. The date of the premiere is predicated solely on when the film's talent is available during their very busy schedules promoting the film in the two weeks before its release. We consider 'I Now Pronounce You Chuck & Larry' a mainstream comedy whose message is inclusive and positive, and we hope that the film appeals to a broad variety of moviegoers.' Some industry insiders, however, are raising their eyebrows over why 'Chuck & Larry' didn't marry itself to the Outfest schedule or move out of the way to accommodate the gays. Sandler, James, and Dugan all declined to speak to The Advocate for our Summer Movie Preview. Universal also failed to provide anyone who could speak on behalf of the film. 'One would think the gays would appreciate the movie, even if it is in jest,' said one source with ties to the festival. 'You sort of have to wonder why Universal didn't go with Outfest in the first place.'"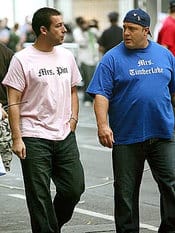 Said Outfest executive director Stephen Gutwillig: "It's both one of the biggest nights of the gay calendar for Los Angeles and one of the biggest nights for the gay Hollywood mafia."
As gay marriage and domestic partnerships are a potential hot button issue, some will surely wonder if it's the movie's treatment of gay and lesbian subject matter that has caused the studio to schedule its premiere on a night when Hollywood's gays will all be at the Outfest event.
In Entertainment Weekly's April Summer Movie preview, they did note that filmmakers took time to show the film to GLAAD:
"While Sandler's coarse, goofy style may not seem right for such a hot-button issue, the studio's taken the time to screen the movie for GLAAD and listen to their comments. 'The movie has . . . some of the expected stereotypes, but in its own disarming way, it's a call for equality and respect,' says Damon Romine, a GLAAD representative. Dan Aykroyd, who plays the fire chief, seconds that opinion. 'It's a move about tolerance . . . Sure, there will be a little controversy, which hopefully will help sell tickets. I don't see the gay community getting upset about it.'"
Chuck and Larry go up against gay Hollywood [the advocate]
You may have missed…
Adam Sandler Jokes About Sex with Kevin James [tr]
Adam Sandler and Kevin James' Wedding Photo [tr]
Adam Sandler and Kevin James Hope to be Gay Celebrity Brides [tr]