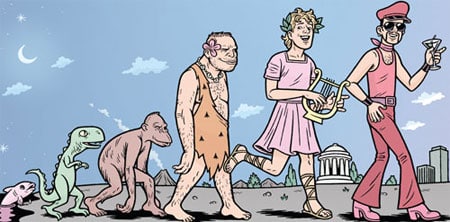 Don't miss this compendium of pieces from Seattle's excellent paper The Stranger. Their Queer Issue features a sort of evolution of "Homo History" with personal perspectives and contributions from John Aravosis, Wayne Besen, Bruce Bawer, Kaley Davis, Amy Ruiz, Larry Kramer, Matt Foreman, Christopher Frizzelle, Ed Murray, Jamie Pedersen, Michael Petrelis, Tricia Ready, Adrian Ryan, Eli Sanders, Dan Savage, David Schmader, Michelangelo Signorile, Hank Steuver, Andrew Sullivan, Michelle Tea, Terry Miller, Andrew Tobias, Edmund White, Rex Wockner, and Evan Wolfson.
And this short video that Chris Crocker contributed to the issue, direct from Real Bitch Island.
On the other coast, the Village Voice is running its annual Queer Issue featuring an article on gay babies, fundraising parties for trans surgery, drag diva Kevin Aviance, big girls (Hello Mika), and of course the always juicy Michael Musto.
You may have missed…
Real Bitch Island, the World of Chris Crocker [tr]