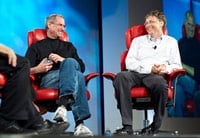 Bill Gates and Steve Jobs sat down together for a joint interview at this week's "D: All Things Digital" conference. Techie fanboys were eager to see the rivals go head-to-head, but the interview amounted mostly to a nostalgic lovefest, with the two singing each other's praises and noting their joint influence on the development of the personal computer. The two managed to get a bit of criticism in at one another, but it was a mostly tame, if still surprising, meeting of rivals.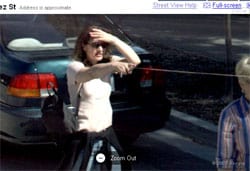 Now that Google Maps has introduced the somewhat-creepy-but-possibly-useful new Street View feature, enthusiasts across the internet have been hard at work tracking down funny, wacky, or sexy images throughout the streets of San Francisco, New York, and Miami. Wired readers vote on some of their favorites.
Apple announced this week that its Apple TV, which streams videos and music from a computer to a full-screen TV, will now be able to play YouTube videos directly over an internet connection. Will we all soon settle down in the living room with the remote to flip through…YouTube?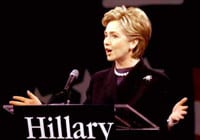 After appealing to YouTube users for their input, Hillary Clinton is narrowing down her search for an official campaign song with a final vote at her website. Some of her own choices include "Rock This Country!" by Shania Twain and "Get Ready" by The Temptations. But she's also included top user write-ins, including "The Best" by Tina Turner and "Every Little Thing She Does Is Magic" by The Police.
While Internet radio frantically works to deter a hike in licensing fees that could sink it altogether, radio networking site Last.fm got a boost this week when CBS purchased it for $280 million. The site will stay independent and ambitious: "This move will really support us to get every track ever recorded and every music video ever made onto Last.fm."
Tech Video of the Week We recently featured a demonstration of a concept computer in the works by Microsoft which turned the computer into a large, double-screen, multi-touch desk. That concept was said to be 5 years away from reality, but it turns out that a very similar Microsoft computer was much closer to reality. This week Microsoft announced Surface, a coffee-table multi-touch computer that will be available later this year for $5,000 to $10,000. The concept is very cool, and has to be seen to be appreciated.
TowleTech is written by TR correspondent Daniel Williford.