Actor Steve Buscemi, who plays an investigator for the city of New York looking into claims that two firefighters may be defrauding the city by posing as domestic partners in I Now Pronounce You Chuck & Larry, defends the film's approach to gay rights and gay marriage: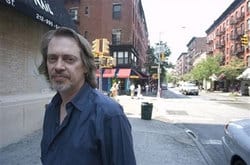 "I don't think you can tell what any movie is like by the trailer, and the premise is two very straight guys who are homophobic, pretending to be gay. It's what they learn about people's attitudes about gay people and gay marriage and that's what I found very interesting about the film; that this is being explored in this broad, comedic, hopefully, commercial film, and, from what I've experienced on set, to me, it champions gay rights and gay marriage. I don't think that is any kind of message that he wants to portray. I would not have been involved with (the film) if I felt like that's what it was doing."
Meanwhile, reviews have begun trickling in for the film.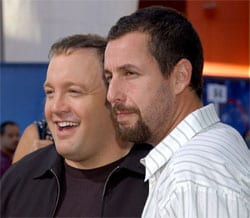 The Advocate calls it a big yawn: "Though Chuck and Larry begin the film as mildly homophobic, their time posing as queer is supposed to open their eyes to gay acceptance. Really, though, it's just an excuse for the film to throw lecherous gay guys at them. While fending off one man's advances, Larry protests that "just 'cause you're gay doesn't mean you're horny for every guy you meet," but in this film, it kind of does. Virtually without exception, the gays here are presented as sex-obsessed or as men who really want to be women. Biel's oblivious attorney enjoys spending time with Chuck because 'girls rule,' and even when another firefighter comes out for real, he's immediately drained of all masculinity and starts to sing 'I'm Every Woman' in the group shower."
And for a more mainstream perspective, Reuters says the movie wants to have it both ways: "Hit the audience with a barrage of homophobia and gay jokes yet wind up with an ecumenical, politically correct embrace of all points of sexual orientation."
They add: "The curious thing here is that Alexander Payne and Jim Taylor rewrote this long-in-development screenplay. Yet the authors of such smart comedies as 'Sideways,' 'About Schmidt' and 'Citizen Ruth' can't move the film away from the world of easy laughs and sitcom jokes into a realm where sexual prejudices and presumptions get examined in a whimsical yet insightful manner. One longs for something like Paul Rudnick's script for 'In & Out,' which was very funny yet delved into the trauma of coming out and the perplexing issue of homophobia in society."
I Now Pronounce You Chuck & Larry opens July 20.
Recently
Scheduling of Chuck & Larry Premiere Jousts Gay Film Fest [tr]
GLAAD Sounds the "All Clear" for Chuck and Larry [tr]
Adam Sandler Jokes About Sex with Kevin James [tr]
Adam Sandler and Kevin James Hope to be Gay Celebrity Brides [tr]