A German children's book in a series that is a bestseller in 13 countries around the world inspired the interest of an American publisher but was rejected by Boyds Mills Press after the author refused to censor this illustration of a tiny sculpture in a museum. Spiegel reports: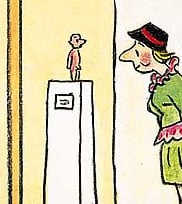 "As it turned out, there were a couple of changes that had to be made before the books could be unleashed on the America public. First off, smokers had to be removed from the illustrations. But that wasn't all. One image shows a scene from an art gallery — and for realism's sake, there is a cartoonish nude hanging on the wall along with a tiny, seven-millimeter-tall statue of a naked man on a pedestal. American kiddies, obviously, could never be expected to handle such a depiction of the human body. The US publisher, somewhat awkwardly, asked if they could be removed. The author, not surprisingly, considers the request to be absurd. The statue's mini-willy, the author points out, is hardly even a half-millimeter long. And the naked woman hanging on the wall? Hardly a realistic depiction of the female anatomy. The US publisher, says Berner, was embarrassed to ask for the changes, but they were even more afraid of how American mommies and daddies might react if junior were exposed to such pornography."
And that detail is part of a larger illustration, which I've posted after the jump.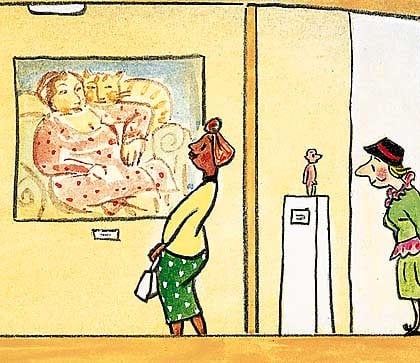 And the 'filthy' nude is pictured below. Dangerous, eh?