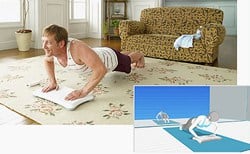 As the Wii continues its ascent toward being the most popular game console ever sold, Nintendo announced the forthcoming Wii Fit, a system for "excergaming." A series of games comes bundled with a pressure sensitive Wii Balance Board, which users balance on to virtually hula-hoop or dodge soccer balls, all while recording their progress at lowering their BMI. "The board is used for an extensive array of fun and dynamic activities,
including aerobics, yoga, muscle stretches and games. Many of these
activities focus towards providing a 'core' workout, a popular exercise
method that emphasizes slower, controlled motions." If they release a Super Yoga Mario, I'm sold.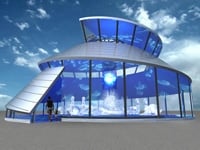 An updated carousel will be erected next summer in a Manhattan park that will spin riders around a glass-enclosed marine world while riding on the backs of translucent dolphins among projections of swimming sea creatures. And I'm not kidding. I assume the soundtrack accompanying the ride will include dolphianic hits like "It's Raining Men," "I'm Coming Out," and maybe "And I Am Telling You I'm Not Going." Because the kiddies love that.
Tivo users can now buy or rent movies from Amazon straight from their television. If it sounds like pay-per-view movies, it pretty much is. Still, with the digitization of all media, this could be the only way movies are available in the near future.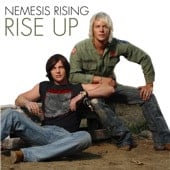 iTunes launched a section called "Next Big Thing," which will allow emerging artists to sell their albums for $6.99 or less, DRM-free. The small collection of discounted albums seem to be hand-picked by the gods of iTunes. Still, very cool. (The gay twin rock band Nemesis Rising is included).
Will Microsoft buy Facebook?

A reputable analyst predicted that Apple would release the iPod Nano revamped and released as the iPhone Nano later this year. While this was said to be based on insider sources, the prediction was later retracted. Now rumor has it that a touchscreen iPod will debut in August.
Perez Hilton announced today that he would be moving up the chain, getting his own television series on VH1 called "What Perez Sez."
TowleTech is written by TR correspondent Daniel Williford.