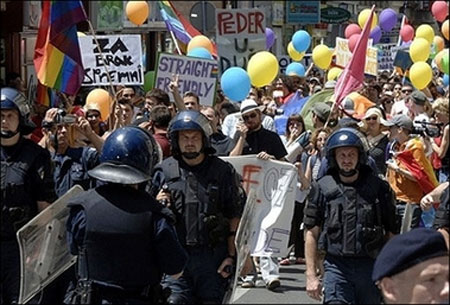 Gay Pride was observed in Zagreb, Croatia over the weekend where ten people were reported injured. Police arrested eight individuals and seized what appeared to be Molotov cocktails, according to the Associated Foreign Press.
Approximately 200 people took part in the march.
The Croatian Social-Liberal Party (HSLS) condemned those attacking the marchers, reported media outlet Javno:
"We especially condemn the brutal attack on 15 participants of the
parade and welcome the efficient intervention of Ministry of the
Interior representatives while protecting Gay pride participants, it is
stated in the HSLS announcement . They also remind that one of the
fundamental principles of this party is that all people have equal and
inalienable rights regardless of race, nationality, religion, gender,
political and other believes and points of view, social status and all
other differences.
HSLS`starting point is the principle which states how a community
can be free only is each individual is free, because the individual is
the society`s greatest value. They advocate the right and possibility
for all particularities to develop in society – personal, collective,
regional, cultural and others. Men`s inalienable rights are physical
and spiritual inviolability, freedom of speech, public appearance and
association, HSLS says."
This was Croatia's sixth Gay Pride march.
You may have missed…

Sportrait: Croatian National Water Polo League [tr]

Alen Kostelac Crowned Mr. Croatia 2007 [tr]