Fort Lauderdale Mayor Jim Naugle, under fire from gays for his proposed "robotic toilets", attacks gay and lesbian library: "Naugle said Tuesday he's not going to apologize for his comments about gay sex in bathrooms, or gay people being unhappy. But he did say he was 'impressed' with the number of 'happy homosexuals' in his city. 'If I've learned one thing through this,' he said, 'it's that there are a lot of happy homosexuals in Fort Lauderdale.'"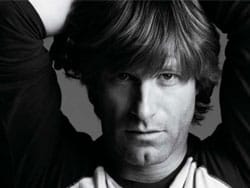 Aaron Eckhart suffers for his craft: "I had to pretend that my nuts hurt, so I put a clothespin on my nuts. Otherwise, you're just learning your lines and saying them. There's no art in that. People say, 'Why do you want to put a clothespin on your nuts?' You know why? Because that's what I do for a living."

Zac Efron to star in remake of Footloose.

J.P. Morgan analyst retracts "iPhone Nano" report.

Breaking tradition, Chicago declares 2006 Gay Games a financial success: "In 2003 when we launched the bid to host the 2006 Gay Games, we promised our local LGBT community, the City of Chicago, and the worldwide LGBT sports movement that the 2006 Gay Games would break even financially. We also made the commitment to leave a lasting and positive legacy for future Gay Games hosts – a sound business model upon which future Gay Games could be built. We are proud today to have fulfilled those promises.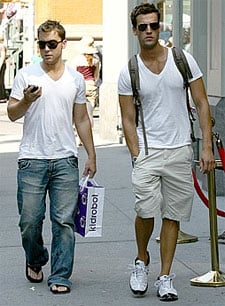 "Landro" said to be "just friends"?

Bryan Singer's close collaborator, screenwriter Michael Dougherty (X2: XMen United, Superman returns), talks movies: "Watching a lot of movies as a kid, watching a lot of t.v. I grew up on the 80s when cable had just come onto the scene, so you know, they were digging deep into the libraries and digging out all these old movies and t.v. shows. So every day I was watching Twilight Zone episodes, Alfred Hitchcock Presents, old B&W monster movies, just constantly being barraged by so many different genres of film -especially horror films. It seemed like cable was really big on putting horror films in there. So in a very short time period I was being exposed to the very same horror films and shows that my Dad grew up with. Oh, and old horror comics. Like 'Creepy' and 'Eerie' were huge for me."

New Florida group raises $1 million to fight proposed amendment banning gay marriage: "By focusing on the ban's potential repercussions for live-in partners — instead of on the polarizing question of gay marriage — opponents are trying to duplicate their success last year in Arizona, the first state to reject a same-sex marriage ban."

Live from Manchester, Barbra Streisand's diva demands: "Waiting for her backstage were five fabric-upholstered furniture suites, 60 tables and 120 bath-sized towels. Even the security staff were immaculate in the 'dark jackets, blazers or sweaters with no T-shirts' that she requested."