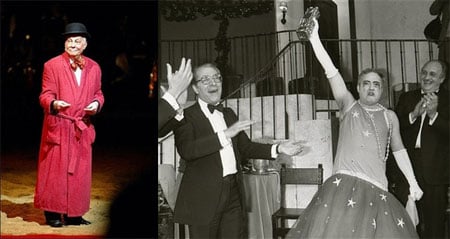 Michel Serrault, a French actor who won acclaim for his role in both the stage and film versions of La Cage Aux Folles, died at his home in Normandy, France over the weekend. He was 79:
"It was a stage hit that brought him one of his biggest screen successes. La Cage aux Folles was a farce written by Serrault's old friend and collaborator Poiret. It was a massive hit in Paris and when Serrault repeated his stage role for the film version, it too proved an international success. Serrault's performance as the hysterical drag performer opposite the Italian actor Ugo Tognazzi was for many the key to the film's success. The film was nominated for three Oscars and won Serrault the first of three Cesars, the French equivalent. (The Birdcage, a 1996 US remake, starred Robin Williams in Serrault's role.)"
There were two other notable deaths over the weekend as well.
Legendary filmmaker Ingmar Bergman died at 89. From the NYT obit: "Throughout his career, Mr. Bergman often talked about what he considered the dual nature of his creative and private personalities. 'I am very much aware of my own double self,' he once said. 'The well-known one is very under control; everything is planned and very secure. The unknown one can be very unpleasant. I think this side is responsible for all the creative work — he is in touch with the child. He is not rational, he is impulsive and extremely emotional.'"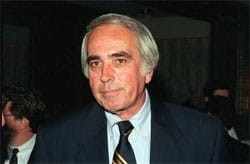 And talk show host and journalist Tom Snyder died at 71 from complications of leukemia on Sunday afternoon: "Known for his improvised, casual style and robust laughter, Snyder conducted a number of memorable interviews as host of NBC's The Tomorrow Show. Among his guests were John Lennon, Charles Manson and Johnny Rotten of the Sex Pistols. Snyder began his career as a radio reporter in Milwaukee in the 1960s, and eventually moved to local television news. He anchored newscasts in Philadelphia and Los Angeles before moving to late night. In 1972 he left news to host 'The Tomorrow Show,' which followed 'The Tonight Show' with Johnny Carson. In 2005, Snyder announced on his Web site he had chronic lymphocytic leukemia. He expressed hope that treatments would keep him alive."