Oprah's home design guru Nate Berkus prepares to hypnotize you on the forthcoming August issue of OUT magazine in which he mainly discusses how he found himself on Oprah and what he's got in the wings in terms of his design career. But he does briefly mention his January 2005 appearance on the show shortly after his partner Fernando Bengoechea was killed in the Southeast Asian tsunami: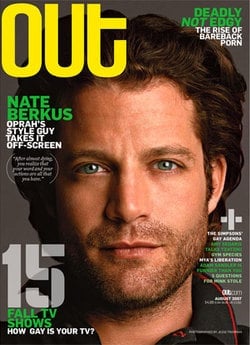 "After the show, I got a tremendous amount of letters and e-mails from kids across the country who were coming out. They said that watching the way my relationship with Fernando was presented on the show gave them the courage to say to their friends and parents, 'You know what, I'm gay just like him and I want to have what he had.' The most touching correspondence I received came from an 18-year-old who said, 'I'd never seen a gay couple's love story presented like that on TV before. Now that I've seen it, I realize I'd be wasting a lot of time if I didn't get out there and try to find it for myself.' It was amazing, and it makes me really proud, because somebody somewhere was watching the show and it changed how they viewed themselves and their own opportunities to live in a successful gay relationship…I wasn't concerned about presenting my relationship with Fernando to the world. I wanted people to know about our life and what I lost."
No groundbreaking revelations on whether or not another significant other has entered the picture, but those of you with fantasies of setting up house with Berkus should be pleased he has at least make it to your coffee table.
You may have missed…
Nate's Long Good-bye [tr]