Pacific Justice Institute, a conservative, non-profit legal defense group specializing in religious freedom and parental rights, challenges Seattle Mayor Greg Nickels for ordering city departments to recognize employees in gay marriages sanctioned elsewhere. Matthew McReynolds: "It's our position that this goes way beyond employee benefits. He was just using this as an opportunity to undercut the (state) Defense of Marriage Act."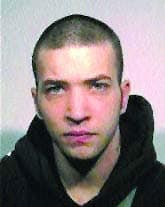 Manhunt underway for Norman Imeson in Canada. Imeson is wanted in connection with the murder of Carlos Rivera, 26, who was a bartender at Taps, a gay strip club in Windsor. Police warn, do not pick up hitchhikers: "People should just be extra cautious. We believe (Imeson) does not have a mode of transportation . . . In rural areas, people leave their doors open, their cars open, so they should be careful."

REPORT: Genre editor Chris Ciompi is out, to be replaced by Men's Fitness editor Neal Boulton. Also, Genre possibly bankrupt. This all sounds so familiar.

Secret Service looking into death threats against Hillary Clinton posted on Bill O'Reilly's website: "If Hillary wins…my guns are loaded."

Believe: Cher Meets Portishead.

Elton John regrets keeping mum on gay issues when he was younger: "I have to speak my mind because as a gay man now I have a responsibility to. I sat back too long. I mean when (AIDS charity) Act Up were going in and trying to change the face of AIDS awareness in America because nobody else was doing it, I sat back and did nothing. I don't know why I didn't do anything. I just look back and question myself."

TomKat gets down at Beckham bash.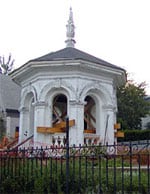 Ptown: Historic 12-ton belfry that has been sitting on the ground since 2002 to return to the top of the Provincetown Library at 5 am tomorrow. "Library Director Debra DeJonker-Berry expects a huge crowd of well-wishers to be present on Commercial Street and on the nearby beaches to watch this historic event. The 29-foot tall belfry has sat on the front of the Library property since 2002 when it was hoisted to the ground for restoration and so that structural repairs to the building could be completed."

Tolerance rally in Georgia canceled after rumors fly that it is planned as a gay parade.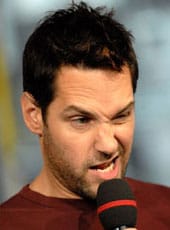 His cuteness Paul Rudd pays a visit to TRL.

Hungarian Secretary of State for Human Resources Gabor Szetey speaks out on coming out: "I think my coming out took so long partly because I was 22 in 1990. Until I turned 22, I thought I was an alien. I really opened up in New York where Gay Pride meant that several hundreds of thousands of people marched: it was a carnival, a huge party where families joined with their kids to have fun and educate their kids about tolerance. I will be the happiest if I don't have to speak about this issue any more. If I have to, I will."

Vulcanized: Zachary Quinto (Heroes' Sylar) to play Spock in new JJ Abrams Star Trek film.

Hurricane outlook cut for 2007: "The season will bring 14 named storms, of which six will become hurricanes and three will become major hurricanes, WSI said in its revised outlook. WSI had previously expected 15 named storms of which eight would become hurricanes and four would become major hurricanes. 'Because the ocean temperatures have not yet rebounded from the significant drop in late spring, we have decided to reduce our forecast numbers slightly' said Todd Crawford, a WSI seasonal forecaster."