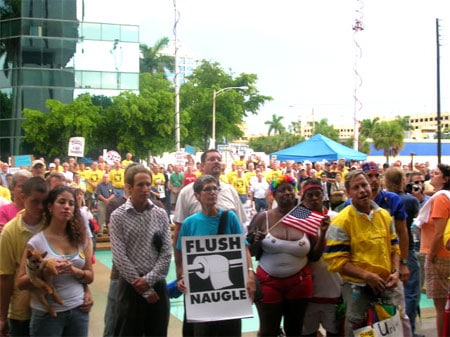 Just hours after Fort Lauderdale Mayor Jim Naugle issued an apology to the people of Fort Lauderdale for not cracking down sooner on what he says is a gay sex in public toilets, a massive crowd organized by UNITE Fort Lauderdale staged a rally outside City Hall.
Chip Arndt (once an Amazing Race winner with then-partner Reichen Lehmkuhl and now currently the PR Director for GLSEN South Florida and the President of Miami's Freedom Democrats) sent us these exclusive shots of the rally.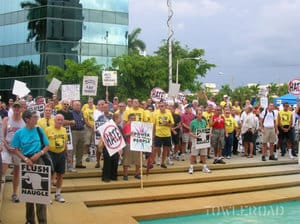 Naugle had called a news conference earlier in the day, saying that an "apology" was forthcoming, although it turned out that the apology wasn't to the gay community but to the citizens of Fort Lauderdale, "for not alerting the public earlier to the serious problem of gay men having sex in public bathrooms."
Naugle's comments only served to solidify the determination of between 800 and 1,000 people who turned out to condemn the Mayor and his recent statements about gays and lesbians. Naugle has said that he uses the word "homosexual" rather than "gay" because gay people "are unhappy."
A counter-protest of about 25 people in support of Naugle had been bused down from anti-gay Reverend O'Neal Dozier's church in Pompano Beach, according to Waymon Hudson of UNITE Fort Lauderdale. UNITE noted, in an earlier press release, that "instead of answering to the concerns of the citizens of Fort Lauderdale , [Naugle] has aligned himself with one of the most divisive religious leaders in Florida , Rev. Dozier. In fact, the mayor was apparently unable to find a church in Fort Lauderdale to support his bigoted statements, so he had to reach out to the Pompano minister. Dozier has made several comments over the last couple of years, including calling Islam a 'cult' and 'dangerous religion', and said that being gay is 'something so nasty and disgusting that it makes God want to vomit' and that HIV-AIDS was God's punishment. In fact, Gov. Bush and Gov. Crist have removed him off of advisory boards for his divisive and disparaging comments."
The Miami Herald reported on the rally: "Bathroom references — someone waved a toilet seat, while another flaunted a sign that said "Flush the Turd" — stemmed from Naugle's proposal earlier this month that the city spend $250,000 on a single-occupancy toilet for the beach to cut down on gay sex in public bathrooms. The resulting ill will toward Naugle blossomed into a general call for diversity and unity that raised at least $10,000 locally and resonated beyond Broward."
Speakers at the event included Matt Foreman, Executive Director of the National Gay and Lesbian Task Force (above left), and Ft. Lauderdale Vice Mayor Carlton Moore (above right).
Said Moore: "We as a community must unite. We must unite against hatred."
Foreman spoke out about Naugle earlier in the day as well, according to theMiami Herald: "So many people across the country have been to Fort Lauderdale for vacations and found it to be . . . gay-friendly. People come to a breaking point, and I think that's been reached with Mayor Naugle."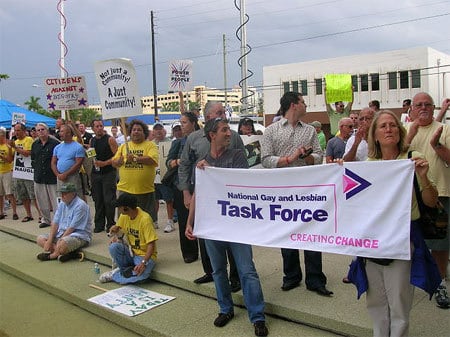 Also speaking were Executive Director of Equality Florida Nadine Smith (below left), whom you may remember was brutally arrested at hearings regarding fired transgender Largo City Commissioner Steve Stanton, and Broward County Commissioner Ken Keechl.
In fact, the rally attracted a broad range of South Florida community leaders. Others who spoke were Michael Albetta, President Florida GLBT Democratic Caucus, Mitch Caeser, Chairman of Broward County Democratic Party, Lori Parrish, Broward County Property Appraiser, Diana Wasserman-Rubin, Broward County Commissioner, Mike D Payne, VP of Longshoremen's Local #1526, Stacy Ritter, Broward County Commissioner, Durrell Watkins, Senior Pastor of the Sunshine Cathedral, Andrew L. Rosenkranz, Florida Regional Director fro the Anti-Defamation League, Scott Newton, Mayor of Wilton Manors, Rabbi Greg Kantor, Jewish Light, Suzanne Boisvenue, Oakland Park City Commissioner, Stephan Lampasso, Chairman of Human Rights Campaign Florida Committee, Dr. Hal McSwain, Pastor of First Congregational Church of Ft. Lauderdale, United Church of Christ, Alan Levy, Community Activist, and Dean Trantalis, Former Vice Mayor of Ft. Lauderdale.
Arndt notes that 75% of those who spoke are straight.
Joining them (below), was Howard Simon, Florida Executive Director of the ACLU.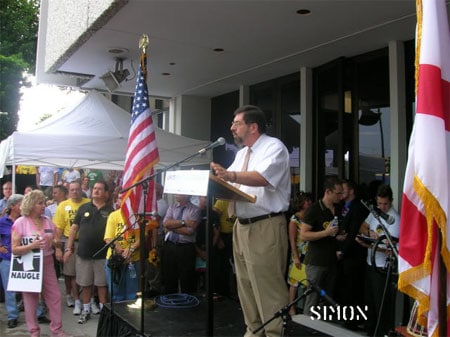 While not a presence at the rally GLAAD issued a statement yesterday condemning the mayor's statements. Said GLAAD President Neil Giuliano (a former mayor himself, of Tempe, Arizona): "A public leader should be unifying the community, not further segmenting it. Mayor Naugle's comments and his lack of remorse for dividing his community are wrong. He needs to enter a dialogue with the constituents his words have hurt and start being the mayor he was elected to be – one who represents all residents of the community."
Flush Naugle [official site]
Fort Lauderdale mayor's refusal to apologize riles gays [miami herald]
You may have missed…
Fort Lauderdale Mayor Angers Gay Community Hours Before Rally [tr]
Flush Naugle: Gays in Fort Lauderdale Call on Mayor to Resign [tr]
A special thank you to Chip Arndt for the correspondence.
ADDENDUM: JoeMyGod has posted an excellent video of Matt Foreman speaking at the rally.