Scout Productions, the team of David Collins and Michael Williams who produced Bravo's Queer Eye for the Straight Guy, has set up a project with Showtime entitled The Beard.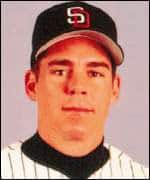 The Beard is a romantic comedy about a gay pro baseball player who enters into a relationship with a woman in order to survive in the sports world.
Jack Lechner (Mad Men) will produce the project, and they've hired a consultant who knows a thing or two about the topic — former Dodgers and Padres player Billy Bean, who came out of the closet in 1999.
Maria Maggenti (Puccini for Beginners, The Incredibly True Story of Two Girls in Love) is writing the script.