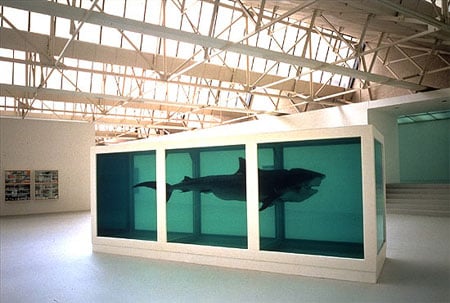 Damien Hirst's formaldehyde shark work, "The Physical Impossibility of Death in the Mind of Someone Living", will be on loan to the Met and is going on display by the end of August:
"Hirst's shark — as it is familiarly known to the art- loving public — is the most prominent work created by the young British artists of the 1990s. It was originally bought by the collector Charles Saatchi for 50,000 pounds ($101,000), a sum that caused a sensation at the time (though it now shows the inflation that contemporary art prices have undergone in the interim). Right from the start, Hirst's shark caused conservation problems. Unlike the other preserved wildlife in the artist's sculptural tableaux — which now include large quantities of sheep, cows, pigs and other fauna — the shark wasn't at first properly injected with formaldehyde. As a result, it deteriorated rapidly."
Hirst offered to restore the work after hedge-fund manager and art collector Steven A. Cohen bought it for $8 million in 2005.
Forbes' writer notes: "He thus posed a neat problem to those who agonize over the philosophy of art. Was the essence of Hirst's work a particular shark, or was it the idea of putting a predatory marine carnivore in a tank and calling it modern art? (Personally, my feeling is that Hirst is correct and the answer is the latter.)"
Judge for yourself at the Met this fall.
If you have more thirst for Hirst…
Damien Hirst Pill Cabinet Sets Auction Record [tr]
$100 Million Damien Hirst Diamond-Encrusted Skull Unveiled [tr]
George Michael, Addicted to Art, Pills, or the Two Together [tr]