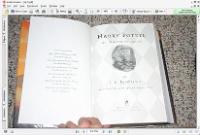 Harry Potter Book 7 goes on sale at midnight tonight, but a copy of the book leaked online in the form of a series of photographs — one of every page of the book. Metadata on the photographs revealed the camera's make, model, and serial number, and its manufacturer, Canon, is looking in to identifying its owner. If the camera was serviced, which Canon says is likely, they will be able to link the serial number to the guilty party.
In other e-SI news, the FBI found the identity of a teenager who e-mailed bomb threats to his high school, which is a good thing. However, their method is rather disturbing for all of us: they installed "spyware" on the teen's computer which monitored his activity and sent it back to FBI servers. While the sleuthy spyware cannot legally capture data in e-mails and IMs being transmitted, it can log information about the computer (down to serial numbers of its parts) and the IP addresses of all internet activity. "
Under a ruling this month
by the 9th U.S. Circuit Court of Appeals, such surveillance — which
does not capture the content of the communications — can be conducted
without a wiretap warrant, because internet users have no 'reasonable
expectation of privacy' in the data when using the internet."

A new computer manufacturer offers an interesting option: an environmentally friendly desktop computer for $99 with a $13/month plan for internet-based file storage. Zonbu is the name of the device and service. They offer a Linux-based computer with a ton of great open source programs that handle all normal home computing activities. Files are encrypted and stored online, so that they can be accessed remotely (and if you update your computer you don't need to move files from old to new). And the computer uses only 5% of the energy that a normal desktop PC consumes.
Reminder: Monday is the Democratic candidate debate on YouTube sponsored by CNN. Nearly 1,800 people have uploaded video questions for the candidates. There's still time!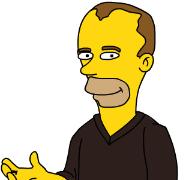 Have you Simpsonized yourself yet?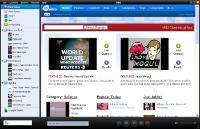 A new version of a "free, open-source video platform" has been released, which is one of many such systems looking to bring television into our homes over the internet. Miro offers dozens of channels of free content, and uses peer-to-peer networking to allow users to download high-resolution and full-length television and movies. Miro is produced by the Participatory Culture Foundation, which aims to make television more open. "Miro is designed to eliminate gatekeepers. Viewers can connect to any
video provider that they want. This frees creators to use the video
hosting setup that works best for them– whether they choose to
self-publish or use a service. It's the kind of openness that the
internet allows and that we should all demand." I've played around with it a bit and it has great potential.
Crackle.com aims to be a more polished YouTube, funding semi-professional producers of videos and short-form content. The site is operated by Sony, and includes original content across several channels like "Shorts," "Sexy," and "How-To." A Crackle co-founder explains "We have been
moving away from YouTube and toward higher-quality content by
rewarding the aspiring producer vs. the person who wants to share a
video of a wedding or of someone jumping off a roof."
After 18 years and hundreds of computers chomping away, Checkers has been solved. A computer program called Chinook can win any game or, in the case of a perfect game, achieve a draw. According to its creator, "Every combination of 10 checkers offers 39 trillion positions for the endgame. Chinook can calculate them all." Chess might be next, but it is likely 50 or so years away from being solved by a computer program.
Tech Video of the Week Internet guru Ethan Zuckerman gives a thorough, 5-minute history of the internet. You oughta know.
TowleTech is written by TR correspondent Daniel Williford.