America's Next Top Candidate? Barack Obama to appear on The Tyra Banks Show on September 27.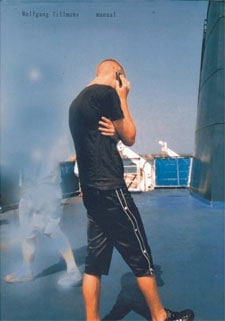 Photographer Wolfgang Tillmans out with massive new monograph, entitled Manual
: "Tillmans, who won the prestigious Turner Prize in 2000, uses the edition to highlight his own experimental approach to photography. He combines photographs with paintings, texts and newspaper articles. Also offering insight into his process, the book shows how the artist displays pictures on long tables in his studio while he preparing for an exhibition or a publication."

Chris Evans well-suited for GQ.

The New York Times scrubs up on the Fort Lauderdale "Flush Naugle" campaign: "In an interview, Mr. Naugle — who described himself as 'extremely' conservative despite being a registered Democrat, like half the city's registered voters — said he had received 4,000 e-mail messages in recent weeks, mostly supportive. A "climate of permissiveness" has developed in the city, he said, similar to when Fort Lauderdale was a magnet for rowdy spring breakers several decades ago. 'It has become kind of like the days of spring break,' he said, 'when we ended up clamping down because people were jumping off balconies and other things. We are kind of going in that direction with the gay tourism.'"

Jodie Foster opens up to More magazine about the ring she wears and media scrutiny: "My life is my life. I'm not going to change my life for anybody. I don't have any problems with it. I just don't talk about my health, my dad, who I voted for or what I think of the death penalty, because that would be trivializing my life, selling it for a magazine. I don't have any problems with anybody reporting on my life. It's just that I'm not going to bring my family into that."

Lance Bass renting out his Beverly Hills mansion while he hits Broadway to play Corny Colliins in Hairspray.

The odd "Gays for Giuliani" activist ad, which trotted out gay stereotypes to expose Giuliani's supposed liberal leanings, is to actually air in South Carolina.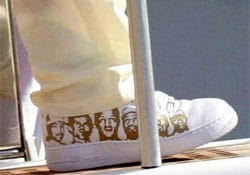 Labor Day ain't here yet! Elton steps out in white.

New documentary looks at San Francisco's "Stonewall": It began on the first day of 1965, when a festive Mardi Gras costume ball was about to begin in the City at a rented venue on Polk Street called California Hall. The high-profile fundraising gala was to be a sort of coming out party for the city's underground gay culture, with hopes, for the first time in history, to publicly reveal itself in a thoroughly respectable yet visibly queer and overtly political fashion. …The police promised not to interfere with what was, in fact, a legal, private event held on private property. But that promise was quickly broken. As eyewitnesses on the film described the incident, no sooner did the party begin, than paddy wagons sealed off the streets around California Hall. SFPD officers armed with cameras and spotlights, as well as guns and batons, formed an intimidating gauntlet through which every partygoer had to pass, to be filmed and photographed upon arrival. The cops then entered the building without cause and without warrants."

Star Jones tells Diane Sawyer why she had gastric bypass surgery: "I didn't want to die fat. Because that's not happy."