Following violence at last year's annual massive Halloween event in San Francisco's Castro district, city officials have announced that there will be no party in the Castro, nor will there be one at AT&T Park, which organizers had been considering as an alternate site. There will be no party at all.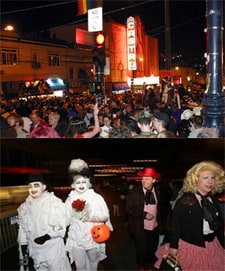 At last year's Halloween in the Castro, several people were injured as gang violence broke out and shots injured nine people. At the time, a security guard at the event told the Chronicle: "When the shooting happened, people just dove to the ground like a wall of water."
The celebratory event has lost its luster, Dufty told the SF Chronicle: "It's not a holiday in the Castro. It's a night in which the neighborhood is overrun by people who come to gawk, not celebrate, and unfortunately it turns into gang night out in the Castro."
Supervisor Bevan Dufty has sent a letter to 110 businesses in the area, requesting that they be closed the night of the event to discourage partygoers from gathering. five have already agreed to close, including popular outdoor cafe Café Flore. There will be no road closures, no barricades set up, but police presence will be as strong as ever and say there will be "zero tolerance" for misbehavior.