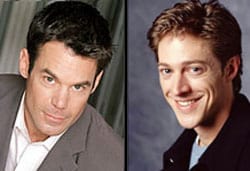 Wisteria Lane's gay couple is set to move in.
"Desperate Housewives has tapped One Life to Live's Tuc Watkins and ex-Judging Amy actor Kevin Rahm to play Wisteria Lane's first gay couple. Watkins will play Bob, described as a country mouse who leaves the big city for greener (and quieter) pastures. Rahm is his bitchy partner, Lee. Both roles are of the recurring variety. Interestingly, the characters' names are a tribute to ABC News' Bob Woodruff and his wife Lee, whom series creator Marc Cherry befriended last spring."
So much for pipe dream stunt casting!
Recently
David Beckham and Robbie Williams to Play Gay on Wisteria Lane? [tr]