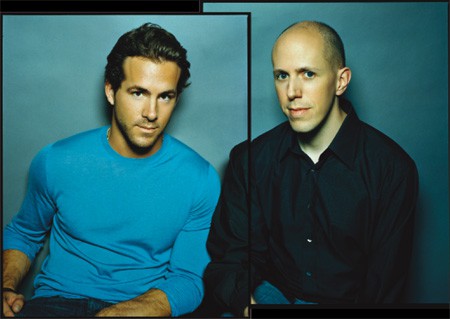 Ryan Reynolds gives a great interview to gay filmmaker John August in the forthcoming issue of The Advocate. Sorry, no beefcake in this article, but it's a great chat and Reynolds shows he's definitely evolved when it comes to sexuality issues. Reynolds is starring in The Nines, written and directed by August, in which he plays three characters – a famous video game designer, a TV star, and a "writer facing a nervous breakdown" which is essentially the character of August himself.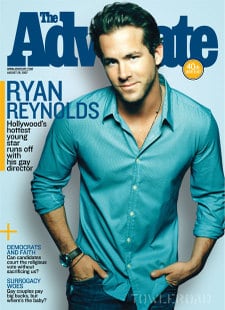 August and Reynolds talk plenty about how actors are perceived in Hollywood, and the gay rumors that are often tagged on to people because of their privacy or whatnot. Reynolds offers up this tale about an early incident on his sitcom Two Guys and a Girl:
"I remember once I did this improv where I grabbed one of the actors and gave him this kind of Looney Tunes kiss. The audience loved it, and I thought it was a really funny moment. I'll never forget—this other actor cam up afterwards and said, 'What are you doin'? People are going to think athat you're gay.' And I remember just thinking that's just the most profoundly idiotic thing I'd ever heard."
Reynolds says he wasn't concerned about the gay aspect of The Nines, unlike other actors who auditioned: "Anyone who is homophobic—they're triggered on some level by something within themselves that they're desperately afraid of. More obvious news later in the program."
He also offers a candid answer when August asks him if he were a gay actor, would he come out?
"I don't know if I would. I haven't spent 23 years with a conflict within myself that is localized to just that. I certainly have my own versions of it, but none of those are as stigmatized as being gay, so I don't know. Would I feel a certain obligation to? I honestly don't know."
Reynolds does however, feel that he can relate, as an actor, to the self-examination gay people put themselves through as they discover they're different than everyone else:
"..given that there are 31 flavors of self-hatred, do you believe that is applicable only to in-the-closet gay people? I'm a 30-year-old straight man and I feel like I can completely relate to what you're talking about right now. I was hyperperceptive to the point where it was actually painful. That's probably a big factor of why I'm in this career.
Plenty more in the issue, which is supposed to hit newsstands on Tuesday, August 14th. The Nines is in theaters August 31.