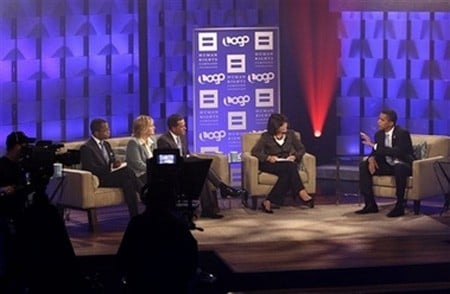 Here are a few clips and some short personal thoughts on last night's gay debate. Overall, I thought the format was pretty good, and reminded me how tired I am of the quick sound bytes that are offered up again and again during the conventional debates. It was refreshing to have the candidates in this bite-size 'talk-show' format.
I was impressed by Obama's appearance right after he finished. Looking back on the performances of the frontrunners, Obama seemed less canned than Clinton or Edwards, but also a bit less experienced and presidential. In the first clip, Obama discusses whether or not he believes the battle for gay rights can be equated to the black struggle for civil rights.
Edwards seemed uncomfortable at first and thrown off by a few questions, particularly the question about transgender people which I don't feel he answered. But I think Edwards won people over in the end, in the third portion of the interview, after he admitted that he shouldn't have used religion as a justification for his position on gay marriage. In the second clip above, John Edwards is asked why he uses his religion to justify his stance on gay marriage. Says Edward: "I shouldn't have said that. I believe to my core in equality. My campaign for president is about equality — across the board."
After hearing Obama and Edwards, Kucinich's appearance was as if someone had opened a door and let a waft of fresh air in the room. Compelling from start to finish. I'm glad Kucinich is in the mix even though he hasn't a chance in hell of winning, because he brings up what candidates would be saying in an ideal world. He's a bit of a cross between a sideshow act at the carnival and a new age preacher. And that strange awkward pause before the last answer…
Gravel was equally as entertaining: "Marriage is a commitment between two human beings in love. And understand me. I'm saying two human beings. They can be heterosexual. They can be two lesbians, they can be transgender. They can be two gays. What it is is a commitment of two human beings in love and if there's anything we need in this world it's more love."
There may not have been a clear "winner" in last night's Presidential Forum on LGBT issues, but there was a clear loser. In the only real "oh no he didn't" moment of the night, Bill Richardson said "It's a choice" when asked by Melissa Etheridge whether homosexuality was a choice or biologicial.
A shocked Etheridge backtracked with, "I don't think you understood the question. Do you think I — a homosexual is born that way, or do you think that around seventh grade we go, 'Oh, I want to be gay?'"
Richardson's follow-up answer didn't do much to save him: I'm not a scientist. I don't see this as an issue of science or definition. I see gays and lesbians as people, as a matter of human decency."
Richardson issued a statement following the debate: "Let me be clear — I do not believe that sexual orientation or gender identity happen by choice. But I'm not a scientist, and the point I was trying to make is that no matter how it happens, we are all equal and should be treated that way under the law. That is what I believe, that is what I have spent my career fighting for. I ask that people look at my record and my actions and they will see I have been a true supporter of the LGBT community."
Richardson talked to Pam Spaulding at Americablog after the forum. Said Richardson: "I knew when I was walking out of the parking lot that I had said something in error. My staff alerted me that I needed to set the record straight. This is something you are born with, and regardless of whether there is conflict about the science of it (homosexuality), I support full and equal rights. I fully support domestic partnerships."
Hillary Clinton seemed a bit wooden and angry at first to me, but it was clear that she's a seasoned politician who has learned a few things from her husband about how to work a room. Here's the clip where Jonathan Capehart asks her about the Peter Pace "homosexuality is immoral" comments and her initial response to them, which was "I'll leave that for others to conclude."
Clinton: "You know you say these things, and somebody sticks a microphone in front of you, and I thought, 'well that was pretty good' and my friends started calling me and saying, 'well, that wasn't very good, so…'I said, 'oh, you know, you're probably right.' So I immediately got the first opportunity I could to say the whole thing. I was focused on one aspect I thought was really over the line…joe blow, joe schmo walks down the street and says, 'here's what I believe.' You say, 'who cares?' Chariman of the Joint Chiefs says it, — that has a direct impact on policy. That's what I went after but I should have put it in a broader context."
For my thoughts on Bill Richardson, see the previous post. Below are some links to both liveblogging and MSM reports on the event.
The Advocate Insider has a report on the post-debate fundraisers.
Visible Vote 08 [logo online]
Democratic candidates talk gay issues in historic presidential forum [the advocate]
Democrats Voice Support of Gay Rights in TV Forum [nyt]
Dems Take To The Airwaves To Woo Gay Voters [huffington post]
Dems walk fine line at gay issues forum [chicago tribune]
U.S. gay voters scrutinize Democrats in TV forum [reuters]
The August 9 Democratic Debate [time]
HRC/LOGO Visible Vote '08
Live-Blogging The Dems [joemygod]
LiveBlog of Gay Issues Debate [lane hudson and katherine zaleski – huffington post]
Open thread – liveblogging the HRC/LOGO Visible Vote 08 Forum [americablog]