Eric Hainstock, the 16-year-old Wisconsin boy who armed himself, entered his high school, and fatally shot his principal in 2006, was convicted by a jury on Thursday night of first-degree intentional homicide and sentenced to life in prison with the possibility of parole in 30 years.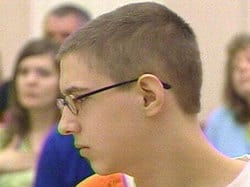 According to the Associated Press, "Sauk County Circuit Judge Patrick Taggart handed down 16-year-old Eric Hainstock's sentence one day after a jury convicted him of first-degree murder in the death of Weston Schools Principal John Klang last fall. Klang's wife, Sue, told the judge that Klang was her high school sweetheart and that life without him is 'horror, agony, emptiness, despair.' She called Hainstock callous. 'The only one who hasn't shed a tear is Eric,' she said. A life sentence is mandatory in first-degree murder convictions in Wisconsin. But after listening to Klang's family and pleas from Hainstock's attorneys, Taggart said the teen could apply for parole in 30 years. The judge also recommended that the Department of Corrections place Hainstock at a juvenile facility and that he take anger management classes."
In May, as Hainstock plead "not guilty" I posted that the homicide received attention because it came after what Hainstock claims were years of abuse at the hands of his family and repeating bullying at school, harassment which school officials continually refused to recognize. Hainstock and supporters claimed that the shooting was a plea for attention gone terribly wrong:
"Hainstock said that a group of kids had teased him by calling him 'fag' and 'faggot' and rubbing up against him, the complaint said, and the teen felt teachers and the principal wouldn't do anything about it. So Hainstock decided to confront students, teachers and the principal with the guns to make them listen to him, according to the complaint."
Klang was shot in the back of the head, chest, and leg. While wounded, he reportedly wrestled Hainstock to the ground. He died later that afternoon.
The jury deliberated for 6 1/2 hours before returning their verdict.
You may have missed…
Wisconsin Teen Pleads Not Guilty in Principal's Murder [tr]