Scott Hall, longtime activist Frank Kameny, US. Representative Barney Frank and Amazing Race winner and activist Chip Arndt are spearheading the launch of Gay American Heroes, a national memorial to honor LGBT people murdered because of their sexual orientation or gender identity. Supporting them are a large number of gay and straight public figures who have lent their names to the project.
The memorial's goal is to honor and remember LGBT people who have been murdered in anti-gay hate crimes, engage and inform the public about LGBT hate crimes, and "inspire compassion and greater appreciation for, and acceptance of, diversity," according to Arndt.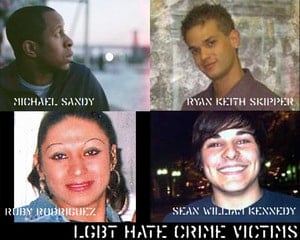 The memorial and exhibition, consisting of a 100-ft. long display made up of eight-ft. tall rainbow-colored multi-dimensional panels which bear the photographs, names, ages, and occupations of LGBT hate crime victims, will travel throughout the country to college campuses, LGBT events, and communities where anti-gay hate crimes have occurred. According to the organizers, an informational welcome tent will host guest speakers and distribute educational materials. Local community leaders will be encouraged to host informative programs in conjunction with the exhibit.
The expected completion date of the Gay American Heroes exhibit is December 2007. The foundation's ultimate goal is to establish a permanent memorial to hate crime victims in Washington, D.C.
The organizers say they chose the name "Gay American Heroes" for the exhibition because the majority of the heterosexual community at large, whom the foundation seeks to educate, often does not distinguish between lesbian, gay, bisexual or transgender, but places all in a single category — gay. The foundation also notes that it is focusing first on Americans and those who choose to take the "life, liberty, and the pursuit of happiness" of others into their own hands. As for the "heroes" moniker, the organizers say: "All people who live honestly about their sexual orientation are heroic, as it takes great strength and courage to face the daily struggles for personal freedom in the face of enormous opposition; to ultimately give their life for said freedom makes them heroes."
Founder and president Scott Hall, a hate crime victim himself, came up with the idea after hearing about the brutal homophobic killing of Ryan Keith Skipper, a 25-year-old from Polk County, Florida.
Hall contacted pioneering gay activist Frank Kameny, whose extensive collection of gay rights papers and memorabilia was recently donated to the Library of Congress, and noted writer and historian James T. Sears. Several others, including Arndt, and Fort Lauderdale's Stonewall Library and Archives executive director Jack Rutland came on board and the project gained steam.
Said Hall: "We want to reach out to communities as soon as possible following a deadly anti-gay hate crime. We want to support the family and friends of the victim, as well as to work with local officials, law enforcement and service organizations to provide counseling and outreach."
Several high-profile figures have thrown their support behind the project as an "Honorary Board of Directors" including U.S. Representative Barney Frank, Matt Foreman of the National Gay & Lesbian Task Force, U.S. Marine Staff Sergeant Eric Alva, the first American wounded in the war in Iraq, actors Alan Cumming, Chad Allen and Bobby Gant, former professional baseball player Billy Bean, political strategist David Mixner, and novelist Christopher Rice. I have also agreed to serve on the Honorary Board.
Cyndi Lauper and T.R. Knight have also expressed a desire to help in whatever way they can.
Elke Kennedy, whose son Sean William Kennedy was killed in a homophobic attack in May in South Carolina, has joined the group's Board of Advisors.
Several local and national organizations have declared their support for the non-profit Foundation. They include Equality Florida, Freedom Democrats of Miami-Dade, National Gay and Lesbian Task Force, Pridelines Youth Services, Safe Schools South Florida, Stonewall Library & Archives, The Trevor Project and Unity Coalition of Miami-Dade.
Gay American Heroes Foundation will be funded through private and grant donations, offline and online fundraisers and partnership donations. The Dade Community Foundation is currently managing the Foundation's contributions and is fiscally sponsoring Gay American Heroes.
The foundation's online address is GayAmericanHeroes.com.