The folks at New York magazine have published some rumblings about what's going on over at Genre magazine following the installation of new (married with kids) editor Neal Boulton, as well as his alleged romantic link to Rolling Stone founder Jann Wenner: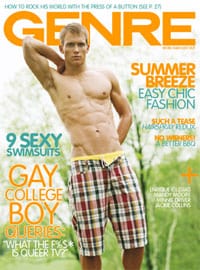 "…sources tell us the pair has been stepping out together again. (Which Wenner's spokesman of course denied to us again yesterday.) While Boulton is still married, a pal says he and his wife live separately and have a friendly 'arrangement' that's been going on some time. 'I'm out; I'm gay,' said Boulton, who recently took over Genre magazine, the fleshy gay monthly. 'We're friends,' he added, not quite denying things. Meantime, the other editors at Genre have fled since Boulton was installed, and he's revamping its look. The October issue will feature a black-and-white cover shot with a red title and black cover lines, much like his old Men's Fitness — though, fortunately, not too much like Wenner's Men's Journal."
And, as a matter of disclosure, this blogger was once an editor of Genre.
Jann Wenner and Neal Boulton: Still Going On? [ny mag intelligencer]
You may ahve missed…
Reggie Bush Sexes Up Men's Fitness [tr]