Al Gore wanted by voters, according to new Michigan poll: "The crowded field of presidential hopefuls isn't crowded enough to suit Michigan voters, who prefer two unannounced candidates for the Republican and Democratic nominations, a new Detroit News/WXYZ-TV poll shows. Former Tennessee Senator and TV star Fred Thompson would lead the GOP pack and former Vice President Al Gore would top the Democratic slate should they decide to run, according to a statewide survey of 400 likely Republican and 400 likely Democratic primary voters in Michigan conducted last Wednesday through Monday by EPIC/MRA of Lansing."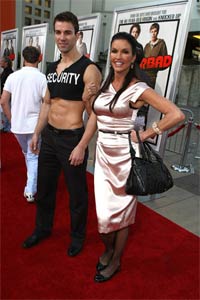 Janice Dickinson and manslave step out on the town.

Outsports' Jim Buzinski and Cyd Zeigler talk to Salon about their new book, The Outsports Revolution: "We don't try to undermine gay stereotypes. We simply try to be who we are."

Me-Me-Me talks to the Backstreet Boys. Brian: "We could get a gay [member]! We are missing a member. Some of my good friends are gay; it's not a big deal but unfortunately, we don't have a gay member. Not to my knowledge anyway. But if someone wanted to come out, I'd love them just the same."

White House upset over Hillary Clinton campaign ad claiming Americans are "invisible" to President Bush: "As to the merits of it, I think it's outrageous. This is a president who, first and foremost, has helped millions of seniors across the country have access to prescription drugs at a much lower cost," Perino said. "As to whether or not our troops are invisible to this president, I think that is absurd and that it is unconscionable that a member of Congress would say such a thing." (watch spot)


Facebook launches "stunning" custom interface for the iPhone.

Hillary Clinton to open for Ellen DeGeneres.

Mike Gravel slams Hillary Clinton over gay rights stance: "By drawing upon the language of states rights, Hillary embraces the tradition of John Calhoun and the defenders of slavery along with Strom Thurmond and the segregationists. Throughout our nation's history, every time national public opinion turns against oppression, opponents of progress use states rights to present themselves as defenders of liberty in the face of federal power. States rights has always been the last refuge of the bigots. Now Hillary has given rhetorical cover to the homophobes. If she wins the Democratic nomination, opponents of gay marriage will cite her statement to justify their opposition to national marriage equality over the next decade."

Following recent gay bashings, Scottsdale, Arizona's mayor Mary Manross is trying to make sure gays know they're welcome there.

The way to Jake Gyllenhaal's heart is clearly through his stomach.