The Young Republican National Federation acted quickly to scrub any mention of their recently elected leader Glenn Murphy from their websites, according to DailyKos, after several Indiana websites broke the news that Murphy, a "rising star" in the Indiana GOP and the leader of the Clark County Republicans, had stepped down after police charged him with "Criminal Deviate Conduct", a class B felony, for sexually assaulting another man following a Young Republicans party.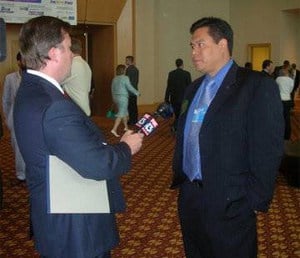 Advance Indiana notes: "Murphy, who also serves as chairman of the Clark Co. Republicans, has been viewed as a rising star in the Indiana and national GOP. His consulting firm has advised congressional candidates like that of former U.S. Rep. Mike Sodrel (R). He is fond of using divisive wedge issues, such as gay marriage, to promote his candidates."
From the police report:
"In a shocking police report filed by the Clark Co. Sheriff's office, Murphy is accused of sexually assaulting another man on Saturday, July 28, 2007, while he lay sleeping in his bed. The alleged assault of the 22-year-old man took place in the Jeffersonville, Indiana home of his sister following a Young Republican party in which both Murphy and the 22-year-old man had been in attendance. The victim's sister had urged both men to spend the night at her home because of the amount of alcohol the two had consumed during the party. The victim awoke in the morning to find Murphy performing oral sex on him according to the report. When the victim asked Murphy what he was doing, he responded: "He was holding his dick with one hand and sucking my dick with his mouth." The victim then pushed Murphy away, gathered his personal belongings and left. Murphy was later confronted with the charges by the victim's sister according to the report. The sister says Murphy admitted to her that he performed the sex act on her brother."
Murphy sent out a letter informing the YRs that he had received a job offer and would no longer be able to perform his duties as their president.
Murphy's lawyer posted this note in the comments section in the original thread from blog 'taking down words' defending his client. In the letter he notes that Murphy has not been charged with a crime nor arrested, and notes that Murphy contends that the actions were between two consenting adults.
DailyKos writes: "If the allegations are true, then this is a leader in the GOP (at least for Indiana, if not nationally) who committed a crime. If he is deemed innocent — which would depend upon the police or courts finding the act was between two consenting adults — then the hypocrisy of the situation speaks for itself."
Indiana's Own: Recently Elected Nat'l Young Republican Chair Goes Down? [taking down words]
Questions Surround Rising Indiana GOP Star [advance indiana]
GOP Sex Scandal: Young Republican Prez [daily kos]
The Hits Keep Coming: Young Republicans Head Resigns In Gay Sex Scandal [joe.my.god]
You may have missed…
A Visit to the College Republican National Convention [tr]
Rep. Bob Allen Cites Fear of Black Men, Weather in Oral Sex Arrest [tr]