I haven't done a Big Brother 8 update in a while, but for those of you who don't watch the show, its resident beefcake Nick Starcevic was sent packing by the other housemates last week.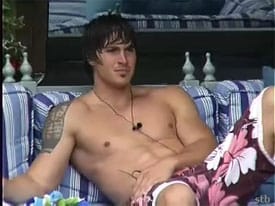 Buddy TV asked him about the fluid sexuality he seemed to demonstrate at certain moments during the show:
And one of the things on the internet, I just have to ask about this, there's now a video, a lot of the rumors about playing up the homosexuality, just wondering if you would address those issues?
NICK: "Yeah, I've gotten asked that question a couple times today about homosexuality. I am definitely one hundred percent straight, I don't know if something was taken out of context or anything like that. It was something with like Joe and I in the hot tub, somebody said. Definitely one hundred percent straight, had nothing to do with men ever. But I am a very comfortable guy with my sexuality, and I do find men attractive, and I can say that because I'm comfortable with my sexuality."
So the story you told Joe then was false, because there's a video of you online admitting to performing a homosexual act?
NICK: "Uh… yeah that's what was told to me before, I never said anything about performing a sexual act before. I said that I kissed one of my buddies on the lips in a bar because of a bet, I don't know if that's what you're talking about."
Not exactly, but I'm certain you'll go on the internet and read about it and find out and hopefully things will be clarified about that.
NICK: "Yeah, hopefully."
Exclusive Interview: Nick Starcevic, 4th Evicted from 'Big Brother 8' [buddy tv]
And for those of you who can't get enough Nick, two more post-game interviews: Nick on Housecalls and on the Early Show with Julie Chen.
You may have missed…
Nick Showers [tr]
Flaming: Big Brother 8 Nick's Hair Removal Techniques [tr]
Big Brother 8 Gaywatch: Nick the Trick? [tr]
Big Brother 8's Nick Starcevic Plays the Gay Angle [tr]