Bill Richardson will be appearing on Michelangelo Signorile's Sirius radio show today at 4:25 EST to discuss his "choice" comment from last night's forum.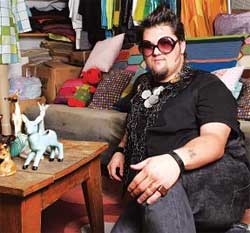 Project Runway winner Jay McCarroll's claims that he is homeless challenged by his best friend and publicist: "Jay, she said, in fact lives in a beautiful apartment building at 72nd Street and Riverside Drive."

Jon Stewart on Florida Rep. Bob Allen and his fear of dark people.

Rehab? Life imitates art for Amy Winehouse.

New Jersey court rules that same-sex couples in civil unions cannot file taxes jointly for 2006, but must wait until 2007: "Under New Jersey law, plaintiffs Quarto and Prichason were considered to be in a civil union because they are legally married in Canada. They asked the state if they could file a joint income tax return as a symbolic measure — even though it would mean paying the state an extra $411…In a unanimous ruling, a three-judge appeals panel affirmed the state's position that the benefits—at least regarding tax returns—did not start until Feb. 19, when gay couples were allowed to join in civil unions."

Group in Lima, Peru launches sticker campaign alerting people that they may unknowingly be carrying HIV.

Bulgarian gay group launches "social attack" tomorrow in Sofia: "At the event, which will be held in park between Sofia University and the Parliament, volunteers will provide basic information about gay and lesbian issues to the general public. 'There are many misconceptions about gays and gay rights in the Bulgarian society, and this is a way to ensure people are getting accurate and fair information,' said BGO Gemini Executive Director Aksinia Gencheva. The event will be recorded on video. Interested passers-by will have the opportunity to answer questions about their awareness and opinions on gay issues such as discrimination and civil partnerships. The volunteers are trained to be honest when talking to passers-by."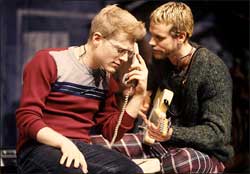 Anthony Rapp and Adam Pascal discuss their return to Rent on Broadway. Pascal: "It was kind of [producer] Jeffrey [Seller's] idea. He had a six-week window in-between actors playing Mark and Roger. Jeffrey and I have been working together on other projects. I think I jokingly said to him in an e-mail, 'Hey, maybe I'll come back to Rent,' because I was going to be in New York at this time anyway. 'Ha, ha, ha.' He called me back a couple weeks later and said, 'Listen, I have this idea. I know you said you were going to be in New York. We have this window, and I want to ask Anthony. Would you be interested in doing the show?' It was the perfect scenario to come back." Josh & Josh share the nostalgia.

Finally: Beckham plays for 20 minutes in L.A. Galaxy debut, still manages to get his top off.

Gay Nicaraguan man faces deportation from Canada after asylum bid fails: "Alvaro Orozco, 21, says he fled Nicaragua, where sodomy laws are in place, at the age of 12 because his father beat him for being gay. He hitchhiked to the U.S. and eventually made it to Canada two years ago. He applied for asylum, but the Immigration and Refugee Board member who heard his case didn't believe he was gay because he wasn't sexually active during his teen years."