A new largest-ever survey of gays and lesbians and their consumer spending habits has been released by Community Marketing, Inc. (with Rivendell Media). 26,205 complete responses to the survey were gathered. Of those, 24,563 of them reside within the United States.
Here is a graph of some of the report's key findings (according to CMI, "some of the U.S. respondents are bisexual, transgender or straight, and are not included in these indices"):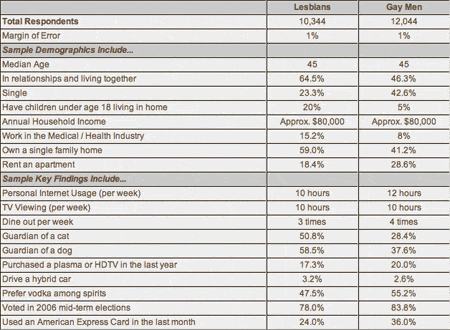 According to Community Marketing, "From April 13 to May 16, 2007, Community Marketing, Inc. conducted an online survey of lesbian and gay adults. As an incentive, respondents were offered a chance to win one of four airline vouchers valid for a roundtrip flight in North America. This survey comprehensively and effectively represents a broad spectrum of LGBT consumers in all parts of the USA. With a sample size of more than 10,000 for each Index, the margin of error is plus or minus 1% with a 95% confidence interval…
…Survey participants were solicited through over 75 widely distributed internet and print publications, including: here! Interactive, Olivia, Instinct Magazine, Curve Magazine, Jane and Jane, Windy City Times, Philadelphia Gay News, OutSmart Magazine, Bay Windows, Genre, HX Magazine, Dallas Voice, Just Out, Gay People's Chronicle, Outlook Magazine, Bay Area Reporter, Out And About Newspaper, Out Front Colorado, Washington Blade, Metro Weekly, Edge, Next Magazine, Chicago Free Press, Watermark, Outlook Weekly, Q Notes, Between The Lines, The Ozark Star, A Bears Life Magazine, and many others. These media partners contributed their survey participants into Community Marketing's own proprietary survey panel developed since 1994, which includes respondents from many other leading event and media companies such as Advocate Magazine, Gay.com, PlanetOut.com, GayWired.com, and Passport."
More information on the report (including how to order one) can be found here.