Even though it has been produced over 5,000 times in high schools across the nation, in areas far more conservative than New Jersey, a high school principal in Ocean Township has shut down the district's planned staging of The Laramie Project, which deals with events surrounding the homophobic murder of Matthew Shepard in Wyoming in 1998, on grounds that it is too provocative.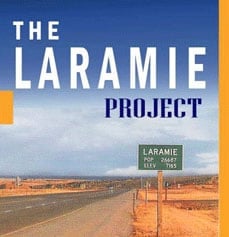 In a letter to responding to drama coach Bob Angelini's plans to do Laramie, principal Julia Davidow wrote: "Wow! I believe everyone involved understands the highly provocative nature of this play. I do not recall discussing it with anyone or approving it, yet I have been requested to sign the a (sic) copyright cost. Let's talk."
The Asbury Park Press reports: "In addition to Garden State Equality, both playwright Moises Kaufman and Shepard's mother, Judy Shepard, have now gotten personally involved in the debate. Judy Shepard has written to the Ocean Township Board of Education in support of the play, and Kaufman has given Angelini permission to remove the profanities from his work, which Angelini said was one of Davidow's original objections to the play."
Superintendent Thomas M. Pagano is standing by his principal's decision: "If I err, I err on the side of caution. The first rule of education is, do no harm. I have to respect the decision made by our high school principal; it's not an easy job to be a high school principal. I regret that this is going to be a distraction to the community. In my 36 years here, it has been a wonderful community."
UPDATE: School superintendent reverses decision, reinstates play.