Max Blumenthal reported today for Media Matters that the Weekly Standard recently wrote an article attempting to debunk an article in The New Republic written by Army Pvt. Scott Thomas Beauchamp.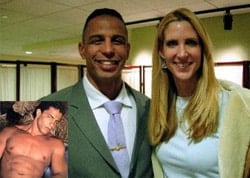 The TNR article, in the form of a "Baghdad Diary" and written under Beachamp's pseudonym "Scott Thomas", exposed atrocities committed by American soldiers.
According to Blumenthal, "Thomas alleged that while eating in the mess hall at Camp Falcon, he and several other members of his platoon mocked a woman disfigured by 'IEDs.' Thomas also told the tales of a fellow soldier who ran over dogs with a Bradley Fighting Vehicle for entertainment and another who played with the skull of a dead Iraqi child."
Beauchamp revealed his true identity (and was disciplined for it — "the Army punished Beauchamp by revoking his cellphone and email privileges")in response to right-wing allegations that the claims of the atrocities were false, but not before the Weekly Standard published a hit article alleging that Beauchamp's claims were "looking more and more like fiction."
The Weekly Standard's was a story that relied solely on anonymous sources, except for one: Marine Corporal Matt Sanchez.
And if you're unfamiliar with that name, here's some background.